Quantum Of Solace At 15
Celebrating Daniel Craig's second 007 adventure
October 29th 2008 saw the London premiere of Quantum of Solace. The follow up to Casino Royale (2006) sees Bond, still shaken from the death of Vesper Lynd, uncover a sinister organisation called QUANTUM, later revealed as a subsidiary of SPECTRE. The story jumps from Italy to Haiti to Austria to Bolivia as 007 thwarts eco-terrorist Dominic Greene's plans to take over an entire country, while still investigating the reasons behind Vesper's betrayal. To mark its 15th anniversary, this is the behind-the-scenes story of the 22nd EON James Bond adventure…
A Series First
Quantum of Solace became the first direct sequel to an EON 007 film, picking up just ten minutes after the events of Casino Royale with a high-octane car chase shootout. Initially the script had closer ties to its predecessor but after Academy Award winning writer Paul Haggis (Crash, Casino Royale) came on board, the script was developed to continue Bond's personal arc and his search for answers after Vesper's betrayal.
Finding A Director And Title
To direct the film, EON hired Marc Forster, who guided Halle Berry to an Oscar with Monster's Ball. As well as his skill with actors, Forster brought an approach that combined the past and the present. "I wanted to go a little bit retro, to pay homage to the early design choices of Ken Adam and the thrillers of the '60s and '70s I loved so much," he said. "I went back to these movies to absorb their look so I could create their feel but at the same time making it modern and cutting edge."
On January 25th 2008 the film unveiled its title drawn from a 1960 Ian Fleming short story in which Bond is told an anecdote over dinner in Jamaica. "Ian Fleming always had an emotional line through his books," recalled Daniel Craig. "Quantum of Solace is a moving story debating relationships and how they hurt. He suggests if you don't have a quantum of solace in your relationship, you should give up." Out For Revenge
"With Bond having fallen in love with Vesper, we had to come up with a different kind of female character," said producer Barbara Broccoli. Haggis' script delivered Camille Montes (played by French-Ukrainian actor Olga Kurylenko), a Bolivian intelligence agent who teams up with Bond but with her own agenda — to avenge the death of her family at the hands of former Bolivian dictator General Medrano (Joaquín Cosío). "Camille mirrored Bond's problem; she too was seeking revenge. There is a strong emotional, rather than sexual relationship," said Broccoli.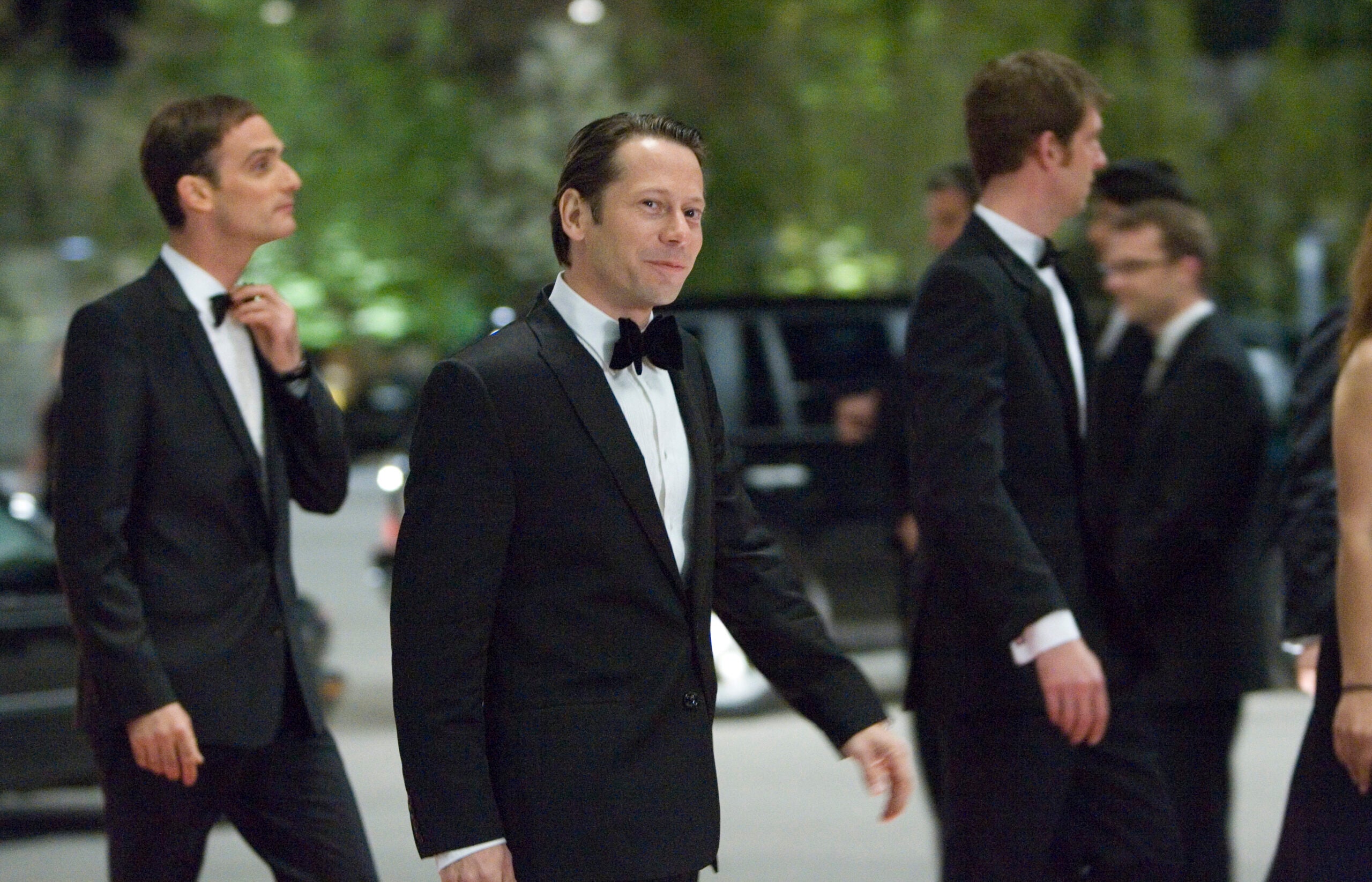 Camille's vendetta against Medrano brings her and Bond into the orbit of the film's true antagonist Dominic Greene. Played by French actor Mathieu Amalric, Greene is a high-level operative of QUANTUM masquerading as a benevolent eco-entrepreneur. His plot, in league with Medrano, is to withhold Bolivia's water supply underground with the idea of using it as leverage to run the entire country. With a plan rooted in current concerns, Greene represented a very modern nemesis, one the actor found daunting. 
"I asked Marc, 'Can I shave my head or have a scar or something to help me," said Amalric. "He said, 'No, just your eyes, that's enough." So that was scary, the responsibility of not being disappointing as a villain and not being lost in the crowd." 
Setting A New Record
With the key cast on board, the production was literally off to the races, sending 10 cameras to capture footage of the Palio di Sena horse race in August 2007. Quantum of Solace started principal photography on January 3rd 2008. "The film had 13 weeks of location shooting out of 22 weeks," remembered producer Michael G. Wilson. "It was the greatest percentage of location work we'd ever done a film." The main unit started filming in London and travelled to 5 other countries: Panama, Chile, Mexico, Italy and Austria. 
Immediate Action
Quantum of Solace begins with action from the get-go with a high-speed pursuit around Lake Garda. The scene utilised seven versions of Bond's Aston Martin DBS and eight of the chasing Alfa Romeos. Other set-pieces included a rooftop foot-chase in Siena – Craig himself performed a leap from a three-storey window onto a moving bus – a fight dangling from ropes in an art gallery and a speedboat sequence shot in Colón doubling for Haiti. Exciting and imaginative, the spectacle was still rooted in the real world, a philosophy Barbara Broccoli attributed to her star. "One of the reasons we had much more realistic action was because Daniel was able and wanted to do it," she said. "When your leading-man does it, then everyone follows suit."
Sky-fall
Surveying QUANTUM's intended land acquisition by air, Bond and Camille's vintage DC-3 comes under attack from a Bolivian black Marchetti plane and helicopter, forcing the pair to skydive into a sinkhole. The freefall itself was performed at Bodyflight, the world's biggest indoor skydiving school. Rather than hang actors from greenscreen, Daniel Craig and Olga Kurylenko performed in a wind tunnel facing winds of up to 165mph, the footage then composited against sky and terrain. The whole sequence was choreographed and shot in just one day.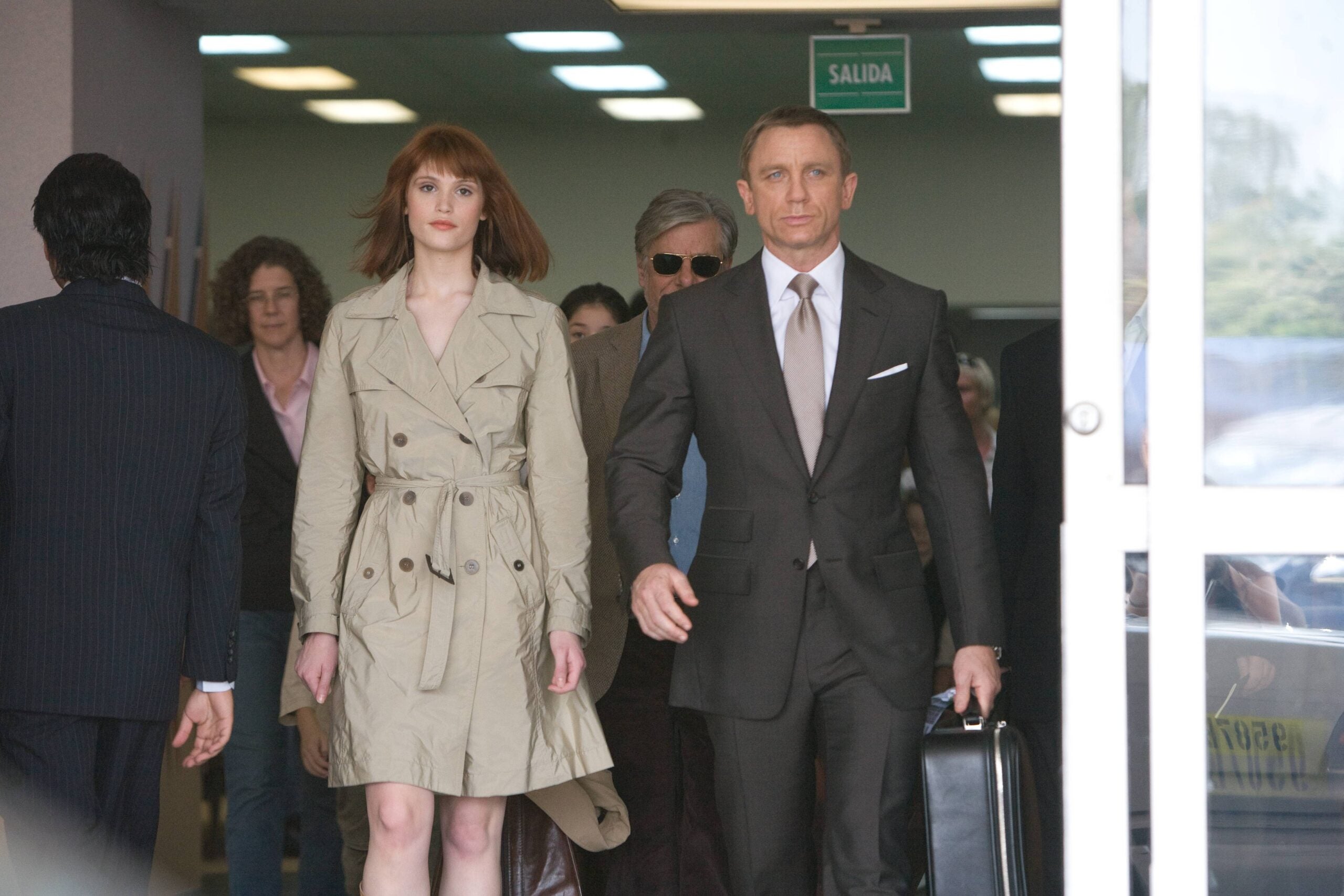 A Nod To The Past
Bond arrives in Bolivia and is greeted by rookie MI6 agent Strawberry Fields (Gemma Arterton). After being seduced by Bond, Fields is killed by QUANTUM, drowned in crude oil. This sticky end is a direct homage to the murder of Jill Masterson (Shirley Eaton) in Goldfinger, who is found dead, covered head to foot in gold. To recreate the moment exactly, Forster constantly referred on set to the shot of Eaton but it was more than just fan service. "Ultimately, oil is the gold of today," recalled the director, "and I thought having her lay there in oil would work for the story."
A Fiery Finale
The explosive climax of Quantum of Solace takes place at Greene's stronghold and was shot at the extraordinary European Southern Observatory and hotel complex in northern Chile's Atacama Desert, one of the driest places on Earth. While the production created a portion of the facility in the desert in order to burn it down, the interiors were created by taking over all six stages at Pinewood Studios. In a period of just 12 days, Chris Corbould's special effects unit set off 54 controlled explosions, six cameras primed to capture the inferno.
Mean and Lean
Echoing Bond's stripped back sense of purpose following the loss of Vesper, Quantum of Solace is the shortest 007 film in the series, coming in at under two hours. The film's title song was written by The White Stripes' Jack White who performed the theme with Alicia Keys. "The song 'Another Way To Die' is about trust," said White. "After reading the script, I started to focus on Bond and his inability to trust anyone, even himself."
Quantum of Solace had its royal world premiere on 29th October 2008 at the Odeon Leicester Square and would go on to earn a phenomenal box office gross of $586 million, the highest to date for a 007 film. With Bond realising the limits of revenge, it stands as an important stage in Daniel Craig's evolution of the character. Next up: Skyfall.
Available to buy: James Bond Daniel Craig Quantum of Solace t-shirt £29.00 and Quantum of Solace Blu-ray £15.