007: Road To A Million Teams Talk Adventures
Hear exclusively from the nine teams
From Chile to Venice, the Amazon to Swiss Alps, the nine pairs of 007: Road To A Million contestants experienced highs and lows as they faced gruelling physical challenges and questions from The Controller. Here they tell 007.com about this life changing show…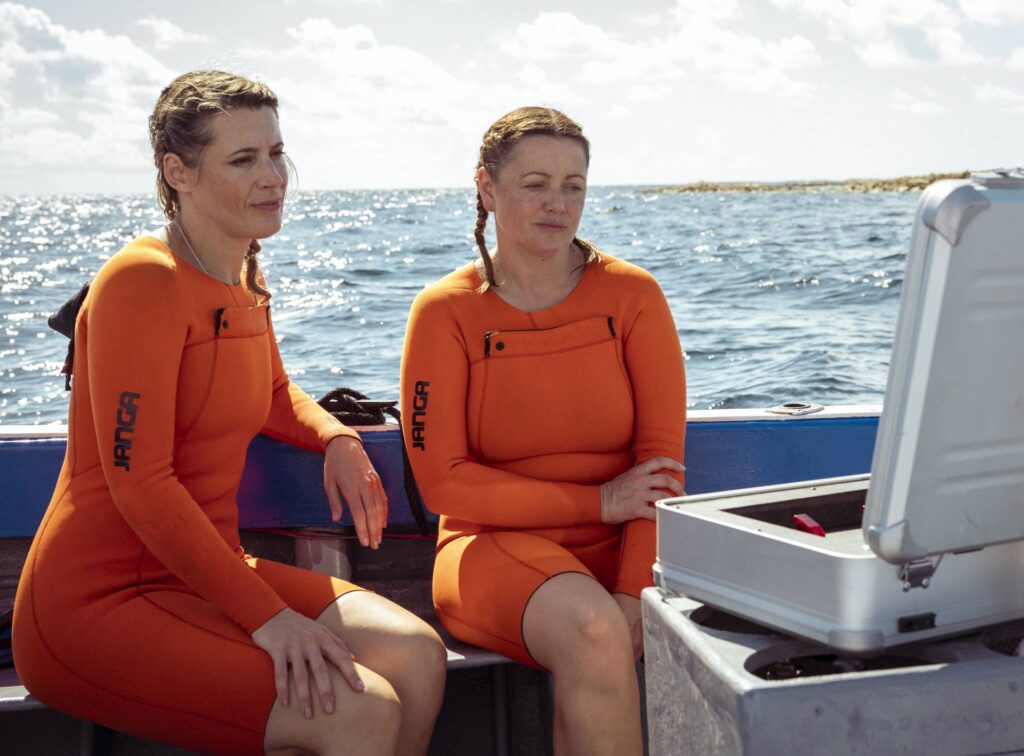 Beth And Jen
Emergency nurses Beth (46) and Jen (41), who have years of experience dealing with traumas around the world.
What did you think you learned about each other during the adventure?
BETH: We realised that we're actually very resilient. We've both got different strengths that really supported each other as a team. I feel as though we can hand on heart say this was 100% a team effort. We've developed an even closer friendship. I hope Jen doesn't mind that I sometimes refer to her as my second sister.
JEN: I just got to know Beth a lot better. As Beth said, we just became really close. We just trust each other like family.
What were your favourite locations?
BETH: I loved Jamaica. I've never been before. It's a real home of Bond and a beautiful place to go to.
JEN: For me, it was Switzerland which was so beautiful with the snow and the mountains. And of course, driving the DB5 made it.
What was the most difficult challenge?
JEN: Definitely scuba diving. I'm claustrophobic and I found it really difficult. At one point I had a mini panic attack. I couldn't control my breathing and had to go back to the surface. Having gone through the panic, I just thought, "I've got to do this, there's no way I can get out of this." I did manage to get right down to the bottom of the depth we were diving at. I'd say it was one of the most challenging things I've done.
BETH: The Amazon. I was going through a vast expanse of Amazon water with piranhas and then having to use physical strength to get myself up and out onto a speedboat. It was just fatiguing really quickly. Also, heights weren't great for me.
What was your favourite James Bond Easter Egg?
JEN: Probably the casino set-up in Jamaica. That was very James Bond!
BETH: We were glammed up to the nines, and we just went through this huge door into a room where you thought, "Yeah, we're now in the movie".
What would you say is your ultimate James Bond film?
BETH: I do like Casino Royale and the way it was filmed. I like Daniel Craig's Bond as a character. There's a humanity to him. Casino Royale was everything that you wanted, with real action.
JEN: I'm really torn, because I do like a lot of the older films as I grew up watching them as my dad's a big fan. But I really liked Daniel Craig's. So I'm split between Skyfall and From Russia With Love or Diamonds Are Forever. They're the classic ones that I've seen more times than I can count.
What advice would you give to people wanting to taking part in the show?
JEN: You can't revise anything. I guess it's good to have some general knowledge and be as physically fit as you can be. That helped me.
BETH: 100% on the physical fitness but also get used to surviving without sleep. As nurses, we're very blessed, we've had years of that!
How would you sum up your 007: Road To A Million experience in three words?
BETH: Marvellous, mad and minted.
JEN: Life-changing adventure.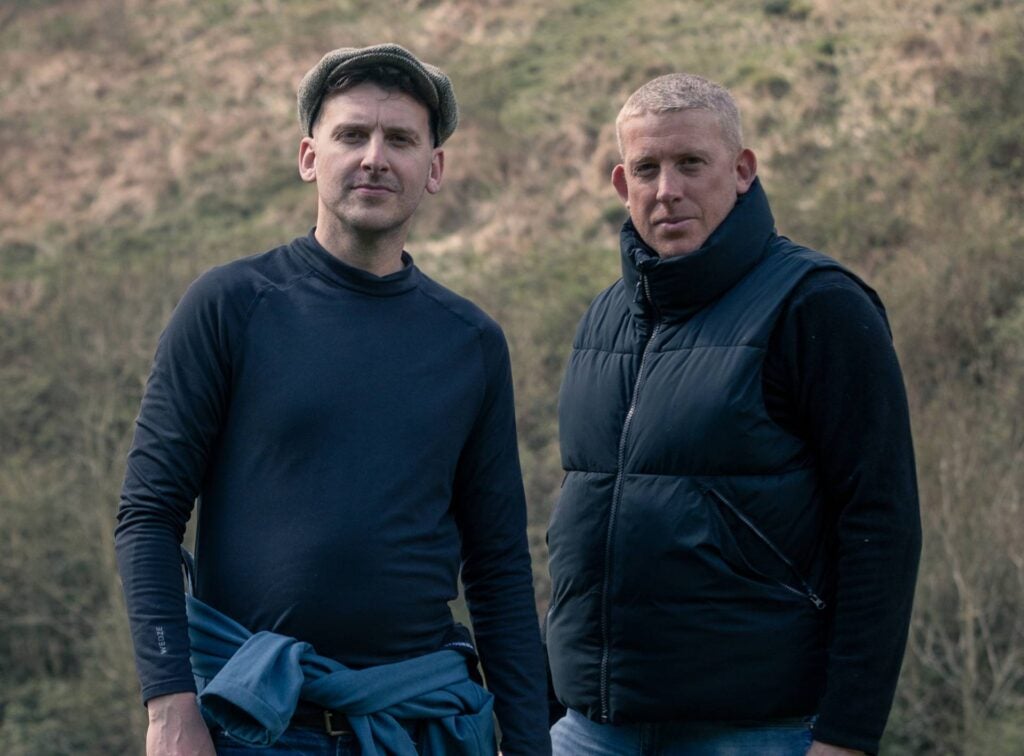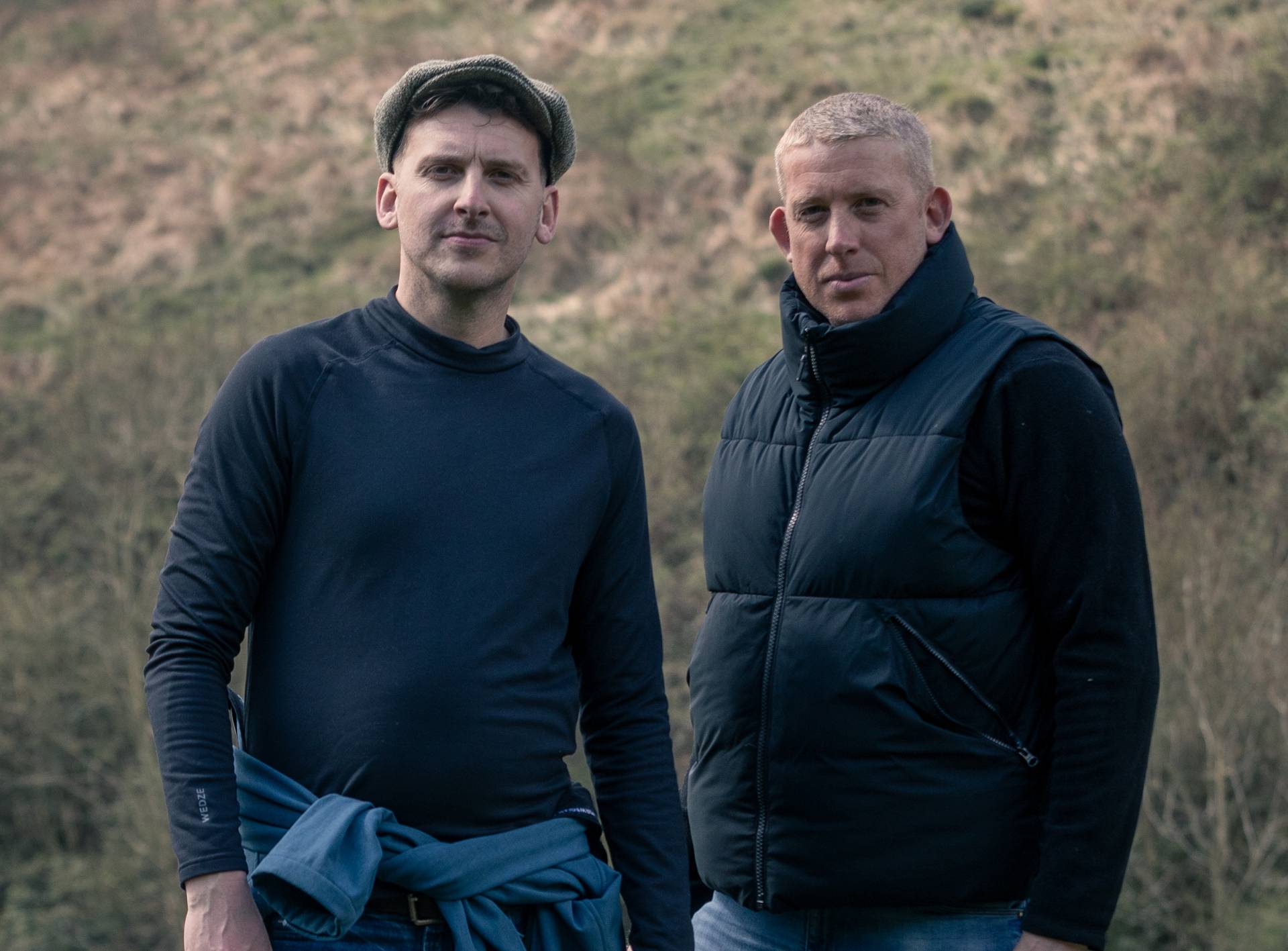 Joey And James
Joey (43) and James (37) are two highly competitive brothers from South London 
You finally got to meet all the other contestants at the premiere. How was that?
JAMES: It was a real pleasure to catch up with everyone. You're so wrapped up in your own journey while you're doing it so to have a night that brought everyone together was so lovely. We are the only people in the world who have got this shared experience at this stage.
JOEY: Put it this way: the two Scottish girls, Grace and Daniella, started a WhatsApp group and it's red hot. 
What was your favourite location?
JOEY: Jamaica!
JAMES: Obviously the weather helped. It was chilled but it was rugged. We were in the Caribbean sea and we then went through the streets. It was just brilliant.
 Which was the most challenging location?
JOEY: Challenge wise, I would say probably Brazil. We had a three-day trek through the Amazon jungle which obviously brings trials and tribulations. We slept out under the stars and then we had to climb Sugarloaf Mountain. It felt like it was never ending. That was a long stint of the expedition.
JAMES: I've got to say the Alps. Walking up some of those mountains in about five feet of snow is no easy task.
How life-changing has it been winning thousands of pounds?
JOEY: It speaks for itself. You can do a hell of a lot with it, it's been life changing for me.
JAMES: Yeah. I am about to pay off my student loan. Joe and I are both self-employed so it gives us a bit of breathing space. The whole thing was an experience we will treasure forever.
What was your favourite Bond Easter Egg in the series?
JAMES: The bar we went into in Jamaica was great. And then obviously me being on top of the cable car in Brazil, that's a classic — a bit of a hairy experience.
JOEY: Just ripping around the Caribbean sea — you wouldn't do that in everyday life. Or if you did, it would have cost you a fortune and we were doing it for free. It's just fantastic.
What is your ultimate James Bond film?
JOEY: Skyfall. I like the way it goes back to basics. There's not the crazy gadgets like in the previous films. It's more about Bond himself.
JAMES: I've gone back and watched every James Bond film. I always loved the older ones growing up. I love Roger Moore because he's brought a perfect British comic aspect to it but I really feel like the Daniel Craig films which are in a league of their own.
What advice would you give to contestants in the next series of Road To A Million?
JOEY: Try and be a little bit fit. You are not as fit as you think you are! Use each other's knowledge and bounce off each other to analyse the question but don't over analyse it.
JAMES: I'd say just take one step at a time. Don't try and think too far ahead, just try and enjoy it. Don't come out of it with any regrets.
How would you sum up your Road To A Million experience in just three words?
JOEY: Best. Thing. Ever.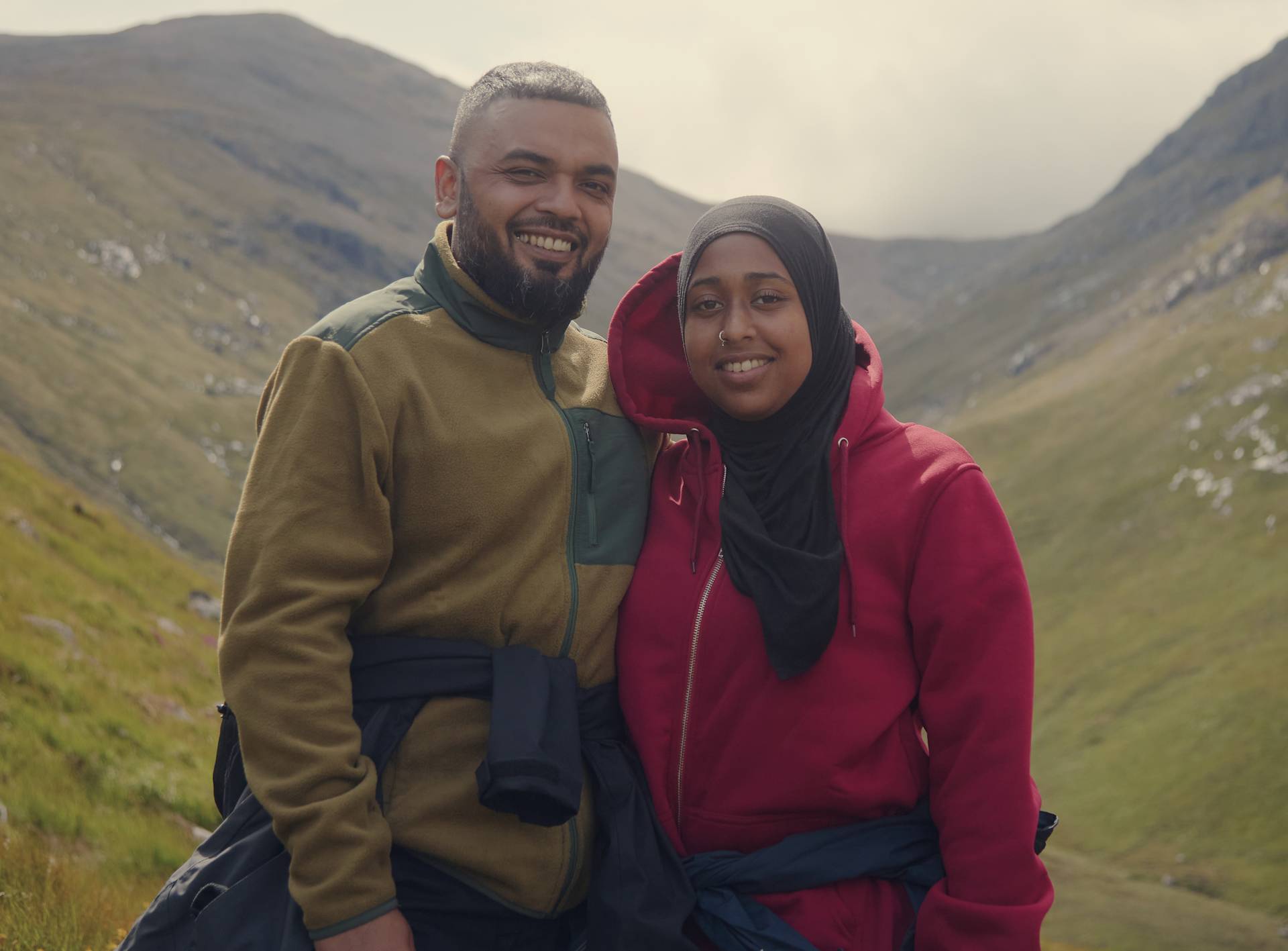 Kamara And Josh
Married couple Kamara (30) and Josh (42) met as youth workers in their local community. Parents to three young children.
What did you learn about each other during the adventure?
KAMARA: I know this is going to sound really gooey and cliché but it was his love for me, in terms of knowing he's got my back. I think that was something that I needed to be reminded of. He's 100% into making sure our relationship works, we are stronger and achieve our goals. I think before, like any relationship, there's umming and ahhing, but Road To A Million really solidified our relationship. Josh is mine, he's my husband.
JOSH: For me, it was a catalyst to what I already knew about Kamara. We needed something to happen in our lives that would reinforce and re-engage what we knew about each other. We knew how much love we had for each other, how much trust we had for each other, but there was nothing to actually demonstrate that until this adventure happened. Our relationship was a bit sketchy before. This absolutely put us back in line, the trust element and the love that we have for each other.
What location was the most challenging?
JOSH: Every stage was really challenging for me, because they read my profile. They knew my biggest fear was height. And most of the activities did involve some kind of height. I was like, "Really? Seriously?" In Chile, we were tasked to ascend one of the volcanoes, and I had every single emotion you can imagine. I laughed hysterically. I had to keep telling myself, "You got this Josh, keep going". That experience will live with me until the day I die.
How life changing has winning the money been?
KAMARA: We don't want to use that money in a silly manner in terms of splashing the cash. That's not what we're like. The money will be something to help us continue to build on.
What do you think you learn about yourself on this adventure?
KAMARA: I've learned to trust my decision making, and be a bit more confident in myself and our relationship as well.
JOSH: I've got these cobwebs that are all about self-doubt. I think I've got rid of some of them. There might be a few still lingering, but this experience certainly brushed away those cobwebs. I'm a lot more confident. There used to be a rigorous risk management process before I tackled anything, but now it's like, "Just do it, Josh".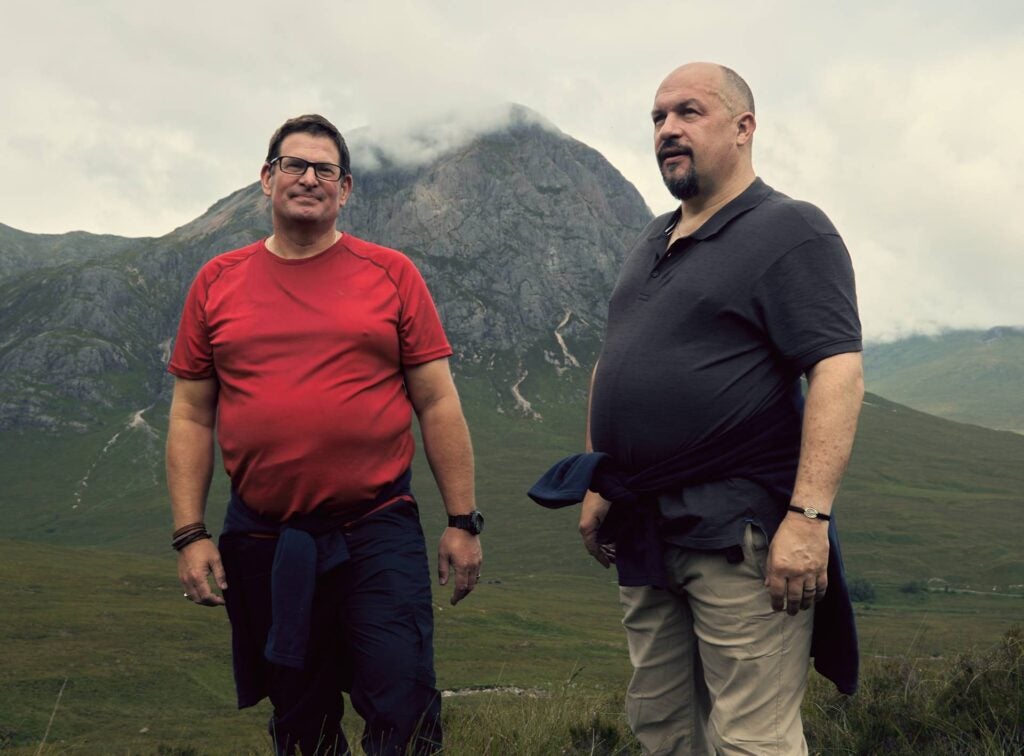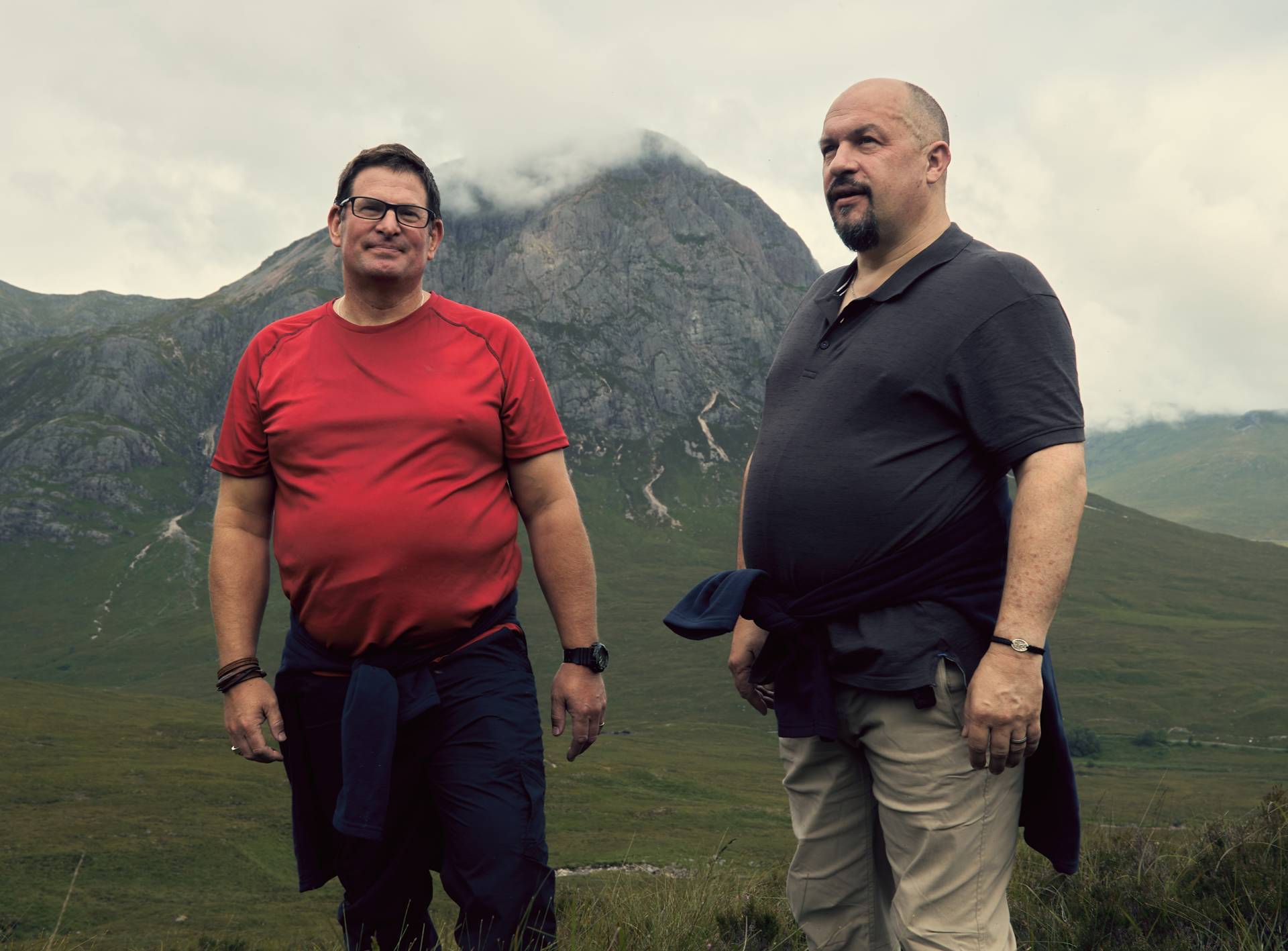 Keith And Nick
Keith (54) and Nick (54) are two retired police officers.
How was the 007: Road To A Million premiere?
KEITH: I'm still pinching myself. Being such a huge fan of the franchise to meet Barbara Broccoli was like meeting royalty.
NICK: It was very surreal meeting the other contestants. There was a bond when we walked in that room, even though we'd never met any of them. I know that sounds really bonkers but that bond was born from this unique thing we've all experienced.
What did you learn about each other during the adventure?
NICK: Keith snores!
Is there any sense this experience changed your relationship?
KEITH: It's made it stronger.
NICK: Yep, if anything, it strengthened what we knew about each other.
What were the most memorable locations and challenges?
NICK: Scotland. I have a love of the mountains, the open space and to be pushed in an environment that I love, you couldn't ask for more than that.
KEITH. I loved the scenery and the fact that within ten minutes of starting Nick managed to fall over. It was like, "Is this really how it's going to be?" Also just looking at it screams Skyfall. If you had to pick an iconic location, Skyfall was it for me.
What is your ultimate favourite James Bond film?
NICK: I love the old ones, Sean Connery's and Roger Moore's, because they're very suave and sophisticated. And there was an element to them that was fantastical. But then you've got Daniel Craig's that were gritty and have much more depth. I love them all.
KEITH: I've got so many. The Spy Who Loved Me was the first one I saw when I was a child, so that's always held a special place in my heart. Goldeneye, when I saw 007 going off that dam, I thought, "This is Bond". And any of the Daniel Craig films. It sounds really daft, but I'm only a few months younger than Daniel Craig so he almost became like a wardrobe consultant for me. If he can get away with wearing it, I can get away with wearing it.
NICK: We've suggested that me and Keith would be pretty good for Bond: The Retirement Years.
KEITH: Or at least just henchman number two.
How would you sum up your 007: Road To A Million experience in three words?
KEITH: Hard. Fun. Amazing.
NICK: Challenging. Fantastic. Fun.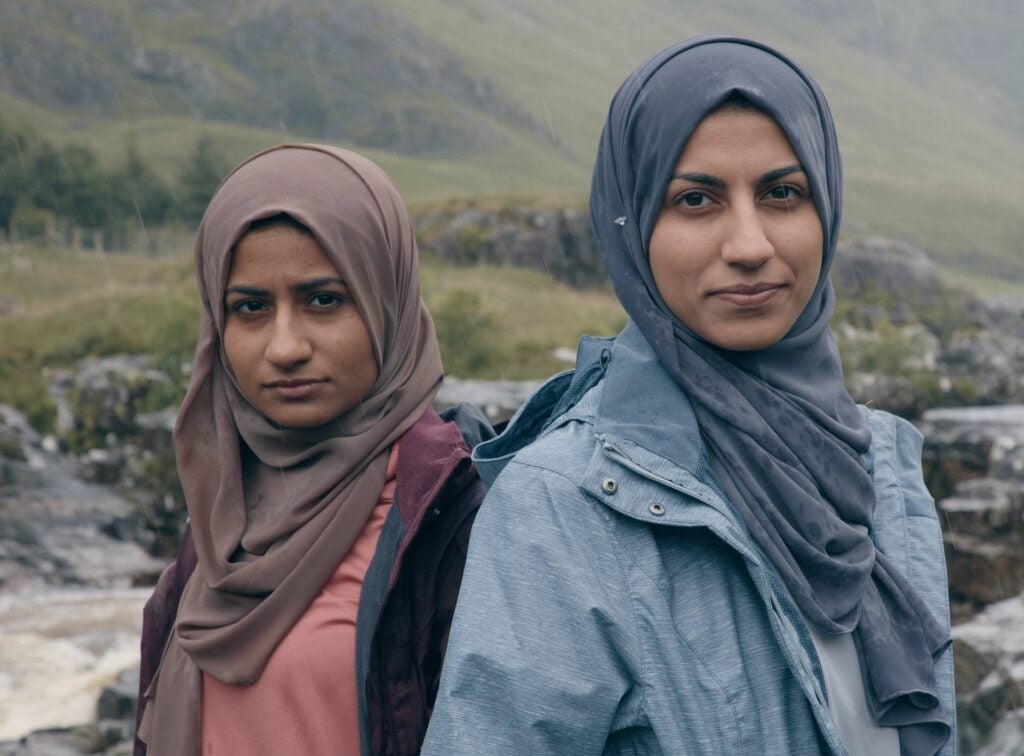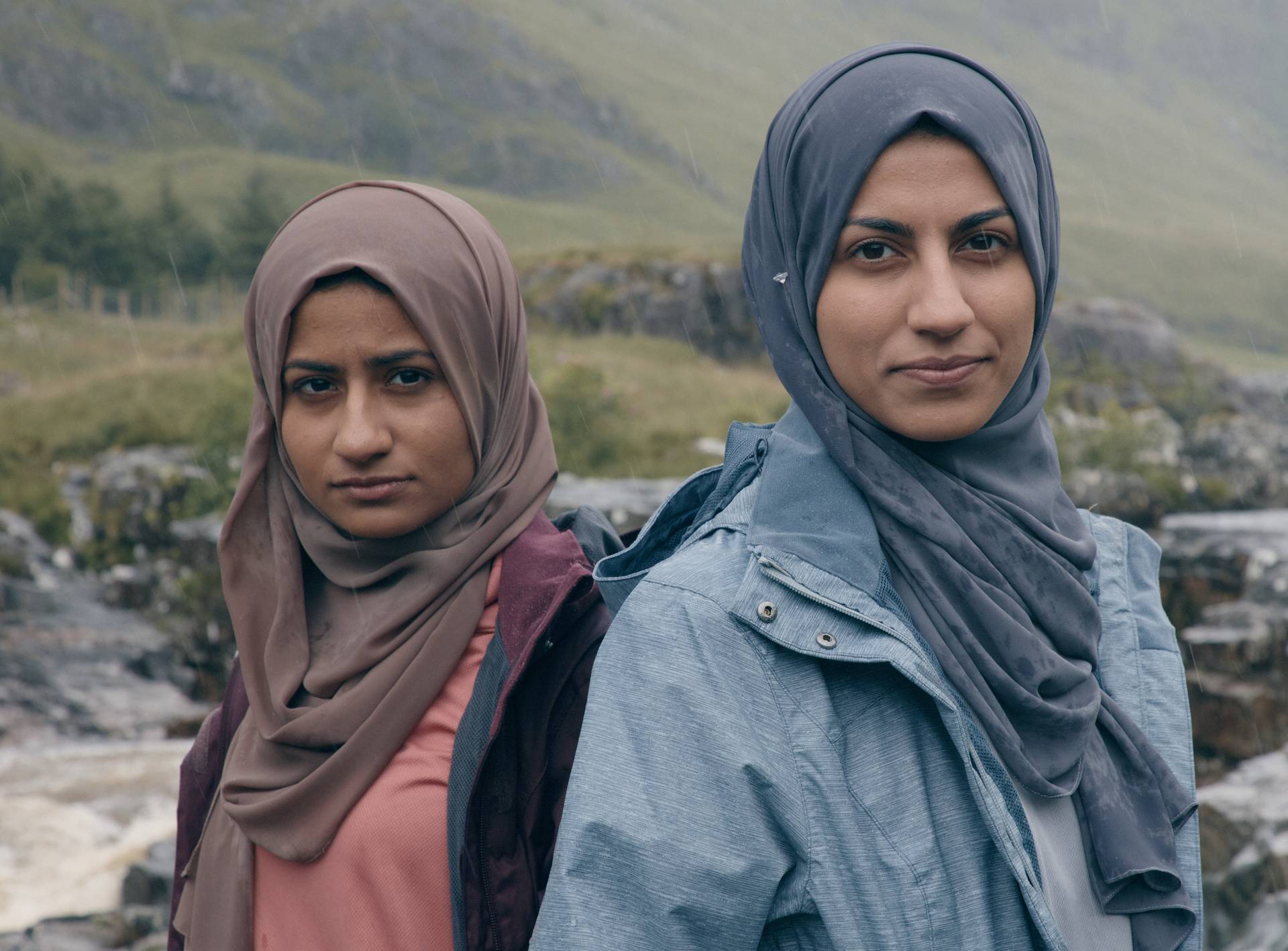 Sana And Saiqa
Siblings Sana (24), a process engineer, and Saiqa (23), a fraud analyst.
What did you learn about each other during the adventure?
SAIQA: Sana's really good under pressure. She definitely carried us to the end. She's not the most athletic person but she really pushes through. She keeps herself composed and manages the pressure really well. I've definitely learnt to be more calm minded because of her. I'm never going to say that ever again.
SANA: You've got that recorded, right? 
Has the experience changed your relationship in any way?
SAIQA: We've both realised the scope of what we're capable of doing if we work together. There's so many other experiences that we don't want life to get in the way of. I think that's one thing that this show has taught us: keeping time for this stuff is really important. You don't see people who look like us on TV very often. The response that we've already received from our family and friends has been so inspiring and encouraging.
SANA: We've grown to a point where we've been doing our own things in our lives. On the show there were so many highs and lows, it was like a secret that only we had between ourselves. It brought us really close together.
What is your ultimate James Bond film?
SAIQA: We are the Skyfall generation. We don't know the previous films but our grandfather talks about them a lot. When we came back from the premiere, and we told him that we met Barbara Broccoli, he was like, "You met Barbara Broccoli?" So, he's an absolute fanatic. 
SANA: When we were younger we used to dress up as James Bond. We used to have our own secret language at home growing up. We were very much into that whole spy thing.
Now that you've been in a James Bond adventure, what advice would you have for other teams in future series?
SAIQA: The advice that we could give you is not going to match what's actually going to happen because they will put you in situations that are out of your comfort zone. You should expect anything. Hit the gym. It's definitely like a physical challenge.
SANA: Keep up to date on your general knowledge, especially in James Bond locations. Also pick a partner that you can go through everything and anything with.
How would you sum up your 007: Road To A Million experience in three words?
SAIQA: Outside comfort zone.
SANA: Mind-blowing. Although that's only one compound word.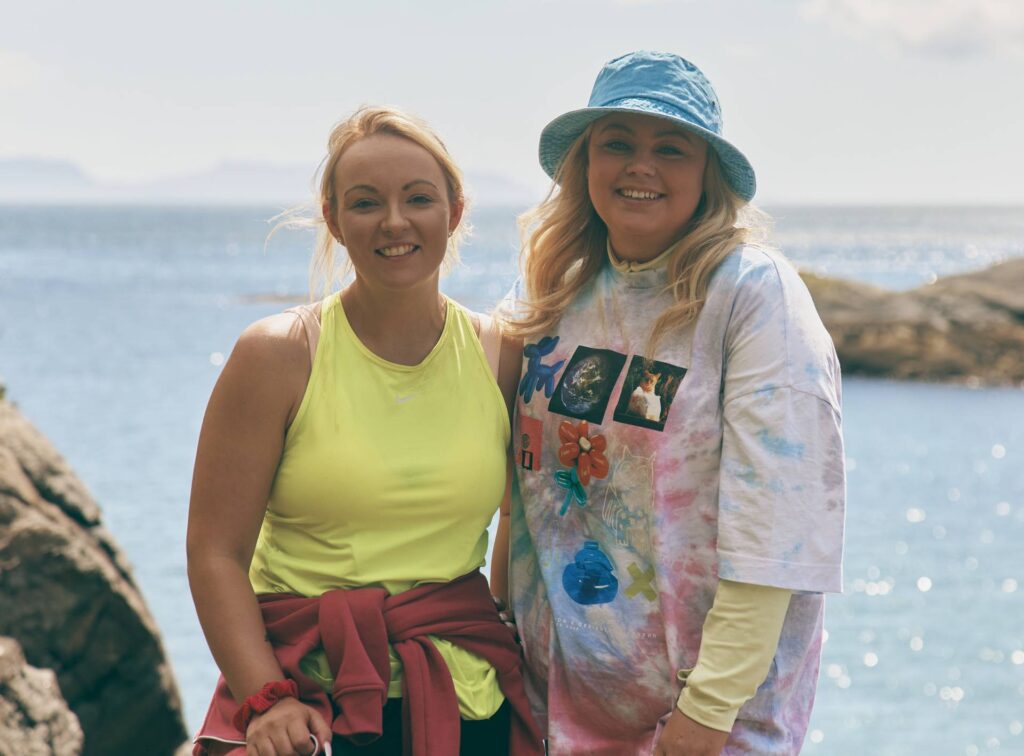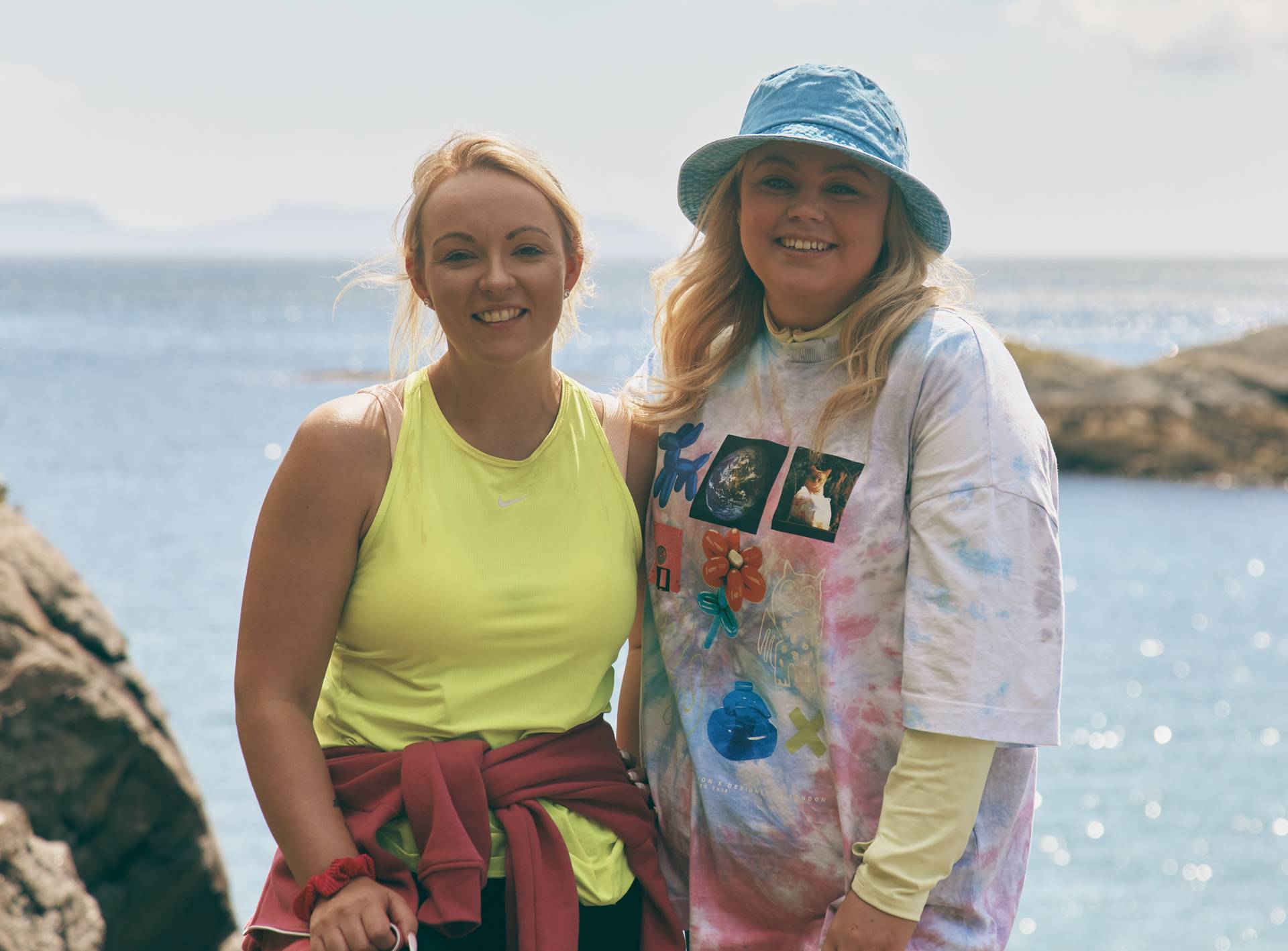 Grace And Daniella
Grace (31) and Daniella (30), two colleagues who met working in Scottish radio.
What are your most vivid memories of the premiere?
GRACE: Well, it was my first ever premiere so it was very glammy. Meeting Brian Cox was amazing.
DANIELLA: Brian Cox is a good Scottish man, He seems like he's my Da. He was on very good form, looking very cool. His being connected to this series is crazy. 
What did you learn about each other during the adventure?
DANIELLA: Grace was strong enough and more than capable of doing these things.
GRACE: I learned nothing can make Daniella sad. She got midgey bites and looked so sore but she was laughing and giggling and still had the usual banter. She was the ray of sunshine you needed all the way through. I also learned if I ate more I wouldn't be such a wee crabby thing.
How did your relationship change?
GRACE: We realised we can trust each other. At times I depended on her, at other times she depended on me. I also learned maybe we should open up to each other more. There's stuff I didn't know about her because I got to know her in a work capacity.
DANIELLA: I agree. That deep-rooted personal connection was perhaps something we glossed over in the past.
What was your favourite Bond Easter Egg in the series?
GRACE: We were on the roof of the museum in Venice and we could see the whole landscape, from the boats to all the tourists. That just felt like something straight out of a James Bond film.
DANIELLA: I thought our second day in Scotland was the most James Bond-y. We had to hijack a Land Rover, break into a castle, navigate our way through the gardens, track down an ancient house and break into it. That was fairly James Bond.
What's your ultimate James Bond film?
DANIELLA: Daniel Craig ones. He brought the franchise more up to date.
GRACE: Probably one of the earlier ones from the '60s, maybe Goldfinger. That's what I remember watching with my granddad and uncle when I was younger.
What did you learn about yourself?
GRACE: That I shouldn't take life too seriously. I think the whole reason I went into this show was because I constantly work. I never do anything for me. So I learned to just do something a bit spontaneous, crazy and fun. Life's too short is the lesson I've taken from this whole series.
DANIELLA: For me, it would be to trust myself. I went into it with all this pressure. I want to carry Scotland, I want to carry women, I want to do it for my family. I should have just been having a laugh with my pal but I just had this big backpack of responsibility on the whole time. I learned I should just do things for me, not in a selfish way, and just trust myself.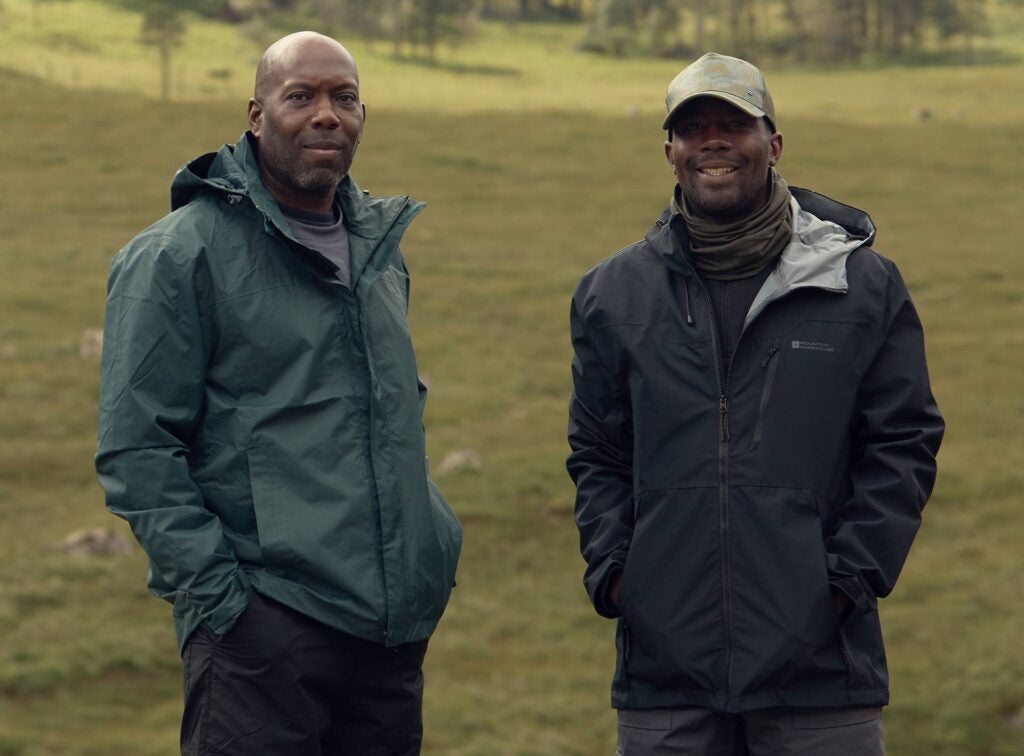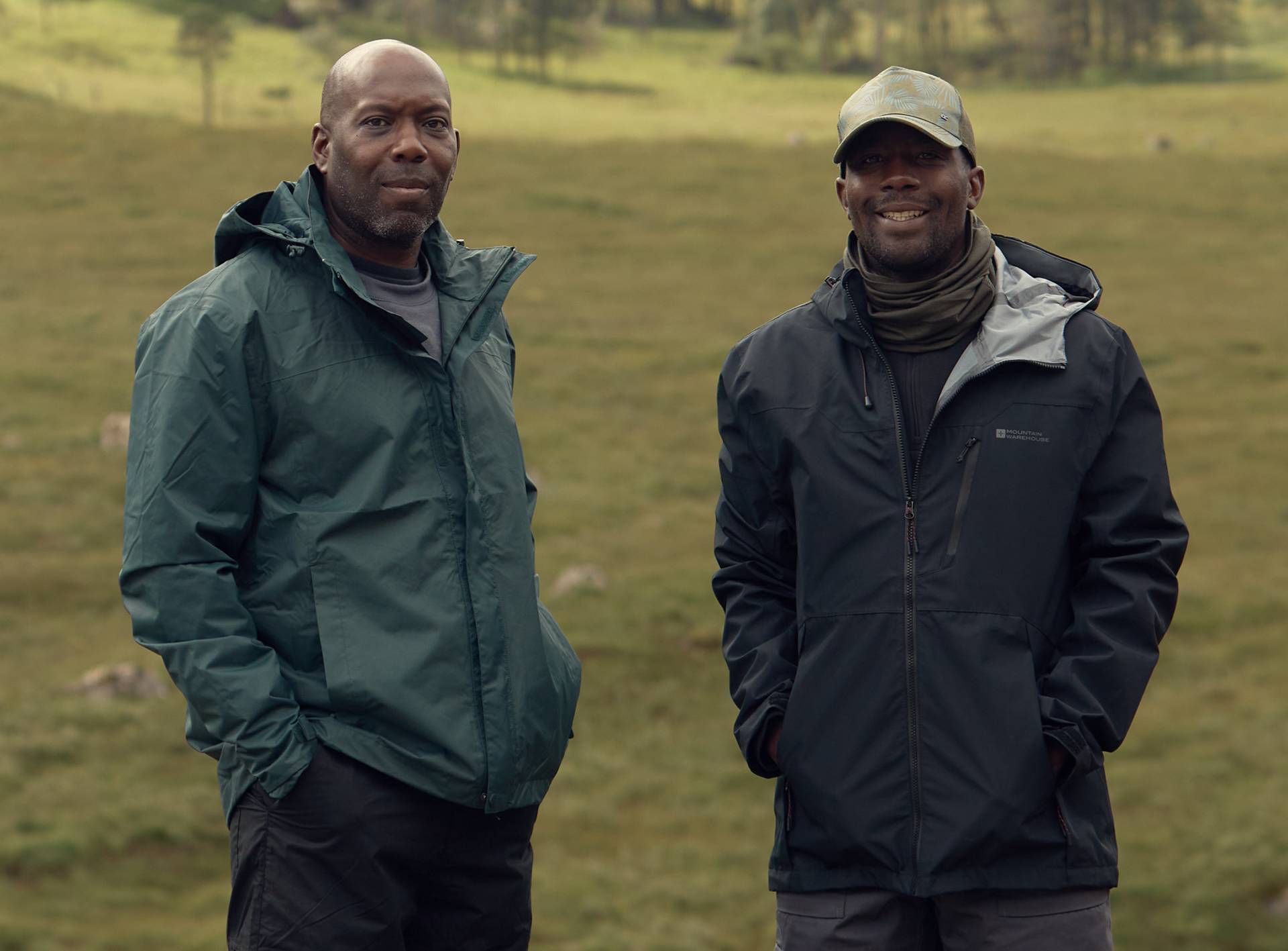 Danny And Colin
Danny (41) and Colin (51), two self-prescribed "brothers from another mother". 
What are your most vivid memories of the premiere?
DANNY: It was fantastic. I've never been part of a premiere before.
COLIN: It's not a normal Thursday evening when you are standing around at a party at Battersea Power Station and Barbara Broccoli comes over and starts chatting to you and your wife.
What did you learn about each other during the adventure?
DANNY: I learned two things. The first being we both like each other's company. We were spending 24 hours a day with each other, sleeping in the same room. I learned that we're very similar. The second thing would be how supportive Colin is. I never felt like I was a spare part. I always felt part of the adventure I was on. I think that's a great leadership trait.
COLIN: I learned Danny is very curious about people. The other thing was watching him stepping up to the plate with some of these challenges. Watching him deal with them and grow was quite inspiring. I was proud of him.
What was the most difficult challenge?
COLIN: The producers know how to prey on your weaknesses. So, for me, water is not my thing.
DANNY: It was heights when we went to Turkey. I don't like them. 
What was your favourite James Bond Easter Egg?
DANNY: I don't know anything about James Bond so it was Colin who pointed out, "This is what happened in this film or that film."
COLIN: I was geeking out all over the place. We're standing outside the door of a hotel in Turkey. I was like, "This is where he comes out in Skyfall." Every location just gave me goosebumps. I suppose the main one was being in Scotland. The road to Skyfall was on the bucket list and then we just got dropped off there in the middle of nowhere. That was a good one.
What is the ultimate James Bond film?
COLIN: I don't have a favourite. I'm a Craig, Connery and Dalton fan. I prefer the hard-edge stuff. This interview is a full circle moment for me because my brother-in-law sent me some Dr. No casino chips that he bought for me from 007.com. I went to the website to have a look and that was where I saw the details of 007: Road To A Million. 
What did you learn about yourself during this process?
DANNY: We've got to try and take as many experiences as we can with the time we've got. I learned that the next holiday that I'll go on is not going to be in a hotel where it's all inclusive. I'm going to do something that's not conventional. I'm going to do something that takes me out of my comfort zone.
COLIN: If you do the same thing over and over, you don't grow. Whereas, if you put yourself in these situations and give it your all, you find out more about yourself.
How would you sum up your 007 Road To A Million experience in three words?
DANNY: Relationships. Experience. Uncomfortable.
COLIN: Experience. Resilience. Adventure.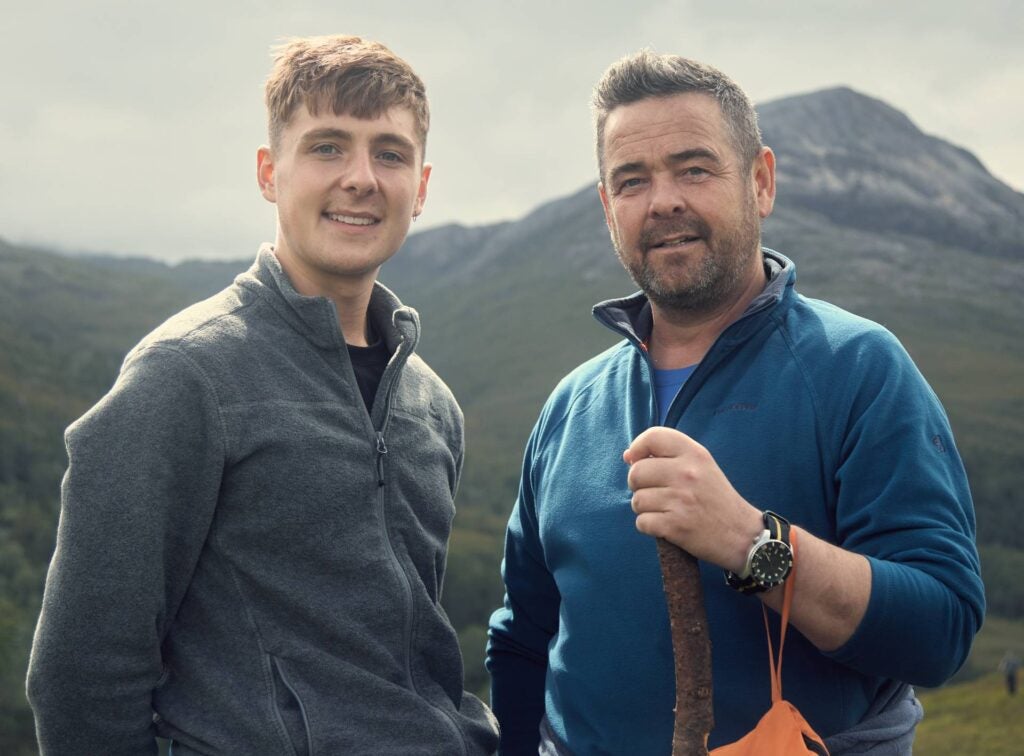 James And Sam
James (50) and Sam (21) are a father and son team.
What were your most vivid memories of the premiere?
SAM: Oh, it was absolutely amazing. It blew our socks off. We were expecting maybe a couple of cameras but then there was a helicopter parked outside in front of us. And then Barbara Broccoli came up to us with open arms like she had known us for years. It was out of this world.
What was favourite location, and which was the most challenging?
JAMES: My particular favourite was when we spent an entire day and night crossing the Atacama desert in Chile, watching the sun go down. It was so humbling just to see a spectacular sunset and feel so isolated in the middle of nowhere.
SAM: The most challenging one was the time trial in Italy. It was a race against the clock. That was after we had just finished the F1 at Monza. It was like we actually got a taste of being Bond. It was nuts.
Do you think it changed your relationship in any way?
JAMES: It brought us to a deeper level. I've always had a relationship with my son where he's been my child. But he's not a child anymore, he's a young man. So, given the opportunity to spend so much time together, I feel like the show brought the relationship from a father's relationship with his child to an old man's relationship with a young adult.
SAM: I've always idolised my dad. I guess I just got to see the adventurous side of him. I hope we can do more stuff like this really. 
What was your favourite Bond Easter Egg in the series?
SAM: James Bond has three main tropes: cars, watches, and expensive drinks. Whether it was driving a classic Jag around Lake Como, sipping Bollinger out of the bottle or wearing OMEGA watches in awesome locations, we got to experience every last bit of it. It was just too cool.
JAMES: For me the most iconic Bond moment was when we hit this location beacon in the desert that features in Spectre, it calls in the cavalry, and we were just waiting. In the morning, as the sun's coming up, we see this cloud of smoke in the distance. As it gets closer and closer this Rolls Royce with a chauffeur pulls up. He opens the door and doesn't say a word. That was the most iconic Bond moment. 
What is your ultimate James Bond film?
JAMES: I'm a real Sean Connery fan. It was a very different kind of James Bond character from the ones that followed. Having said that, I am also like Timothy Dalton.  So, I'm torn between any of the Sean Connery ones and The Living Daylights.
SAM: I'm going to say Daniel Craig fan because he's the Bond that I grew up with.
What did you learn about yourselves during this session?
JAMES: I'm at a stage in life where I've reached the pinnacle of my career. I'm over the hill in terms of my age, and going on this adventure showed me there's still a bit of fight in the old pup yet. I've still got plenty of adventure left in me. In fact, Sam has been saying to me, "Dad, this is just the beginning." I'm up for that.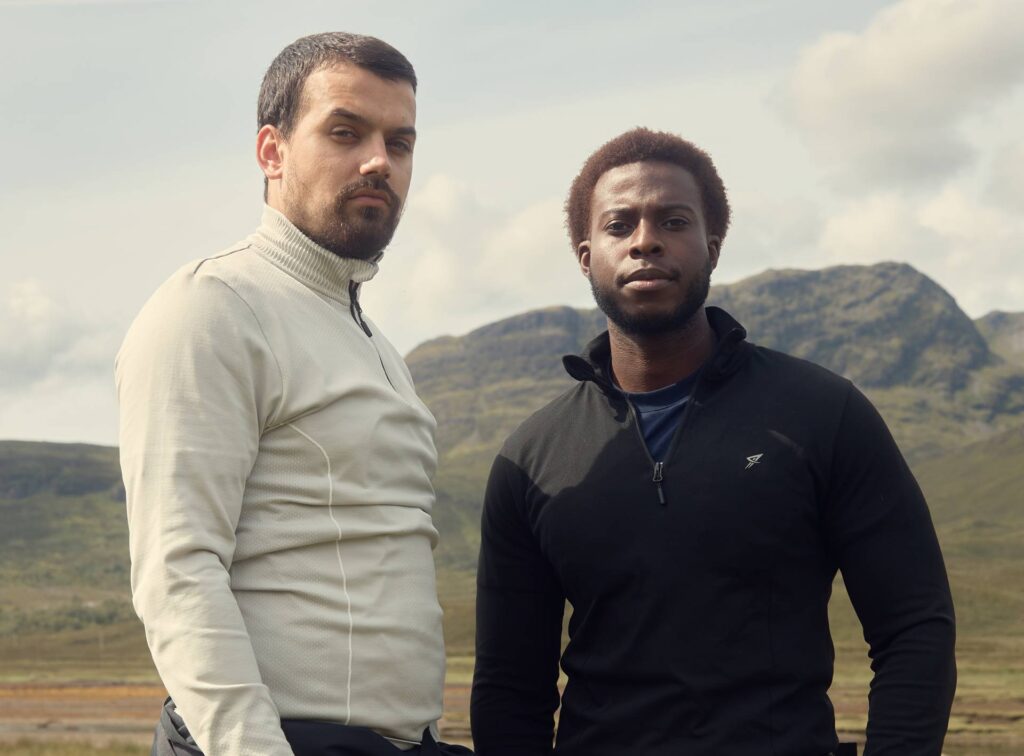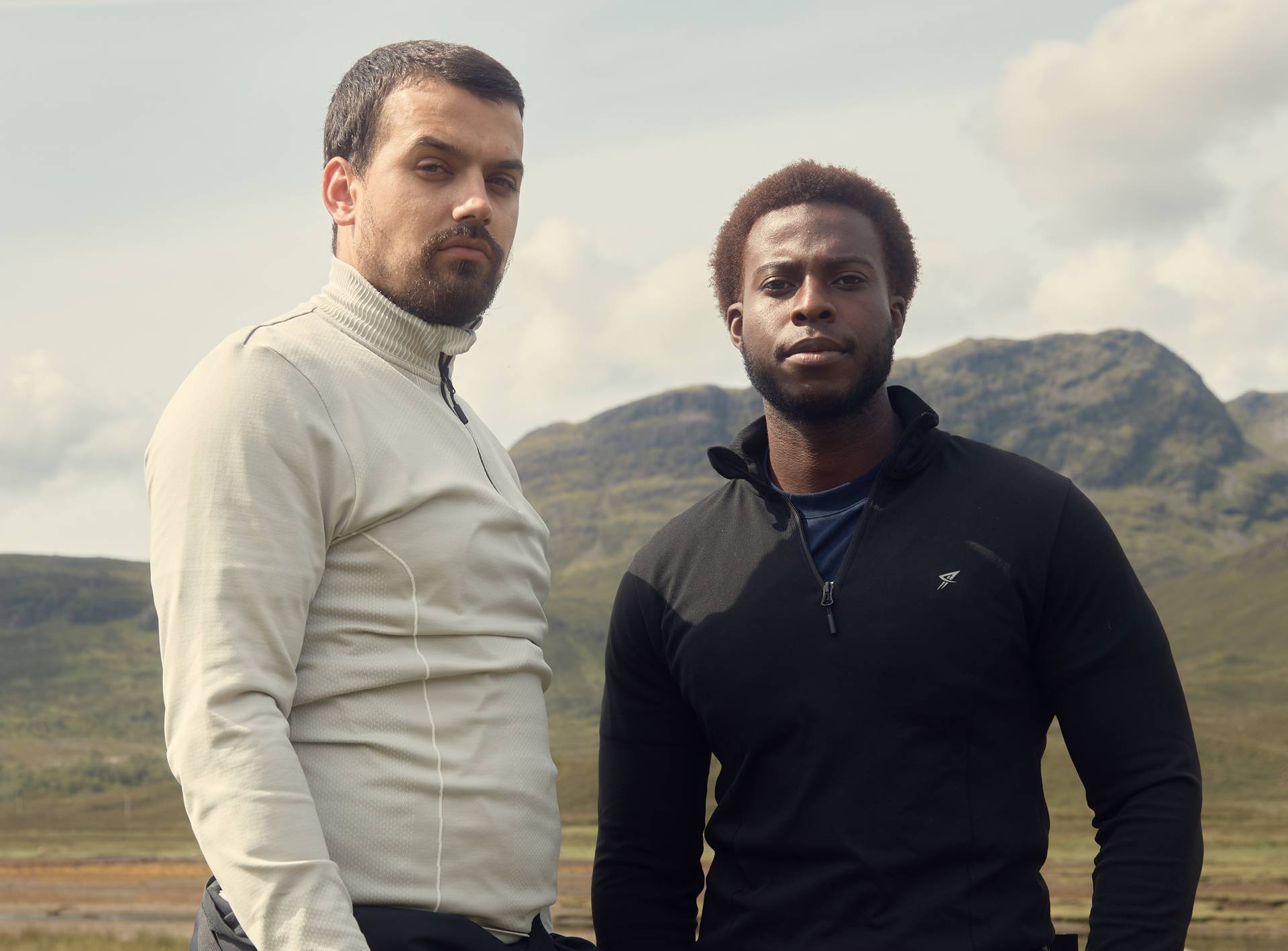 Tanaka And James
Old school friends Tanaka (28) and James (28).
What were your favourite locations during the adventure?
TANAKA: Scotland was really nice. We went to the Isle of Skye. We were really lucky with the weather, it was really beautiful. It was a hiking challenge where we had to navigate instructions and then we went in a rowing boat. Fortunately, James was able to lead the way on the rowing boat because I didn't have a clue. Then he had to jump into a pool.
JAMES: It was the coldest water I've ever touched in my life. The case I had to retrieve was so heavy as well. Tanaka didn't help me!
TANAKA: I was cheering you on. I was lifting the case in spirit.
What did you learn about each other during the adventure?
TANAKA: I learnt that he can row a boat. I think if James wants to do something, he can do it. 
JAMES: Tanaka's like my right hand. I feel like I know him very well, we're very similar.
What was your favourite Bond Easter Egg in the series?
TANAKA: It felt most like James Bond before filming even started. When we got to the airport, everything was secret. They took our phones off us and then we were sent to this house in the middle of nowhere. I thought this was basically survival mode, anything could happen to us.
JAMES: When we got in the taxi to go to the first place, the person who was transitioning us didn't want us to know anything. I asked the taxi driver how long the journey would be and he said, "Two hours." That's when I knew we were in for an adventure.
What is your ultimate James Bond film?
TANAKA: I'd say Die Another Day. I think that was the one that when I was younger I was able to watch properly and understand what was going on.
JAMES: My favourite James Bond was Pierce Brosnan.
TANAKA: He was probably the Bond of our generation growing up.
Now that you've been in a James Bond adventure, what advice would you have for other teams in a potential future series?
TANAKA: Don't stress, just have fun. The money is not yours. What is money at the end of the day? It's about having a good time with your friend or relative.
JAMES: Respect the camera crew. I felt like we were one big family. The crew were so funny. They made loads of jokes and we gave them a bit of banter. I would love to meet them again.