The Cars Of The Living Daylights
An extract from Bond Cars: The Definitive History
The new book, Bond Cars: The Definitive History by Jason Barlow, is a celebration of the cars that have featured in all 25 of the 007 films. This excerpt focuses on the cars of The Living Daylights and the spectacular stunt on the ice lake in Austria…
In The Living Daylights, Bond heads to the Austrian border in a quintessential though now rather forgotten 1980s car, the Audi 200 quattro. This is one of two Audis he drives in the film (we also see him in a 200 Avant in Tangier). This third generation of Audi's large executive saloon was a key car in the brand's evolution: it arrived in 1982 at a time when the automotive industry was in thrall to aerodynamics (in marketing as well as practical terms), its slippery shape and flush-fitting glazing marking it out as an innovator in a category that remained generally conservative. The 200 quattro turbo was the pinnacle car, embellished in the film with split-rim BBS alloy wheels and then fashionable bodywork mods by well-regarded German tuner ABT Sportsline (which has an esteemed history in the DTM race series and more recently Formula E). If The Living Daylights is an unfairly overlooked 007 film, then the Audi is a rare-groove Bond car appreciated by fans who like to look a little deeper. (There's also a notable cameo for a 1959 Chevrolet Impala, a car with previous Bond form.) Not least because it inevitably played second fiddle to a returning hero: Aston Martin. Absent for eight films and almost 20 years (if we set aside the brief glimpse of a DBS in Q's workshop in Diamonds Are Forever, a scene that was actually filmed in Aston Martin's Newport Pagnell base), the marque most associated with James Bond was now firmly back. 'It was a great positive,' Michael G. Wilson observed.
The positivity worked both ways: manufacturing and selling high-performance cars is a capricious business, and Aston Martin's priceless association with James Bond has seen it through some difficult times. By the 1980s, the company was in the hands of charismatic businessman, car enthusiast and aviator Victor Gauntlett, whose success in the petrochemical industry led him to invest in Aston Martin at a time when recession threatened to finish it off. There's little doubt that Aston Martin might have disappeared altogether were it not for his commitment, and the deal he brokered with Ford in 1987; there's absolutely no doubt whatsover that it was Gauntlett who got the brand back into Bond, dealing directly with Cubby Broccoli.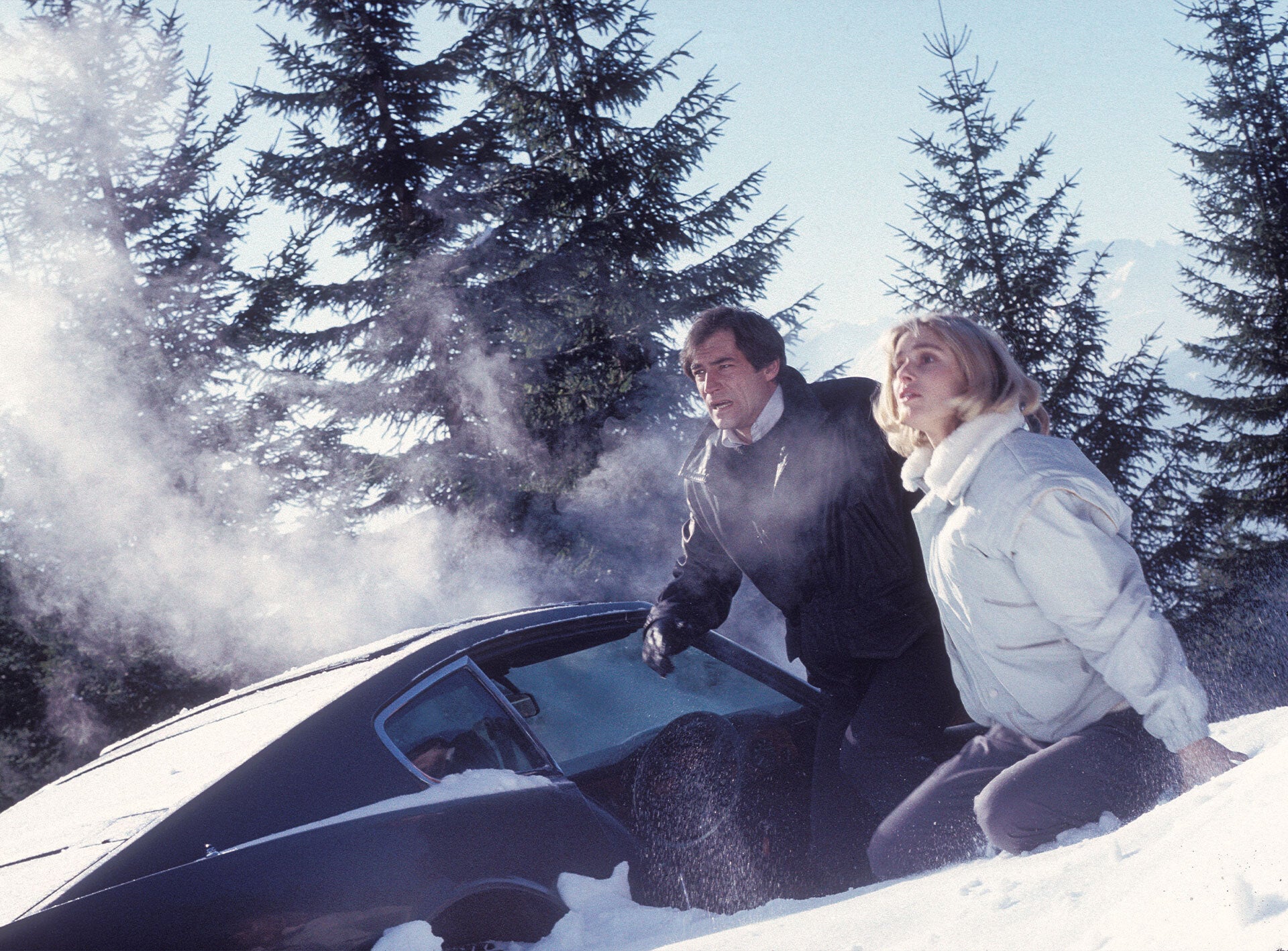 Indeed, he even loaned his personal V8 Volante to the production, which is the car we see Bond driving as he arrives at the fictional Blayden House MI6 stronghold (filmed at Stoner Park near Henley-on-Thames in Oxfordshire; note also the Rover 800 and a pair of Daimlers) for a debriefing with M and KGB defector Georgi Koskov (Jeroen Krabbé). Effectively an evolution of the DBS V8 that had appeared in 1969, the V8's continued existence may have been proof of the company's lack of development funds, but for many it still epitomised the great British sports car. Gauntlett's Volante was fitted with a Vantage engine, but neither it nor any of the other three cars used in The Living Daylights were technically Vantages. And although we see Q 'winterising' the Aston by fitting a hard-top, the V8 (which Aston Martin refers to as a saloon, despite its coupé silhouette) that Bond then drives to Bratislava is categorically not a Volante with a roof. The producers bought three V8 saloons, all of which were prepared for filming by Aston, and seven fibreglass mock-ups were also constructed for the more brutal parts of the sequence. While Bond and Kara Milovy (Maryam d'Abo) are pursued as they head to the Austrian border, the Aston's extensive suite of gadgets is revealed: there are lasers in the wheel hubs, retractable outriggers, heat-seeking missiles with head-up display, bulletproof glass, a jet engine hidden behind the rear number plate, a self-destruct mode, and a radio that scans for the local police frequency. At one point, the car also turns into a fishing hut, a (non-Q branch) disguise it quickly sheds; two barns were made, one of balsa wood that the car could drive straight through, the other on a frame that the Aston could effectively 'drive'. 'Unless you've got an unlimited supply of action vehicles, which you rarely do, they have to be nurtured and caressed, as they suffer constant abuse,' John Richardson recalled.
The sequence on the lake was shot at Weissensee, southern Austria, but as it was January it was also perilously cold. This was a problem for both equipment and crew, as long-standing Bond special effects wizard Chris Corbould remembered: 'It was 30° below out there. We had to fire the Aston Martin up a ramp to go over the top of a hut. Because of the extreme cold, we fired the car with compressed air but, instead of opening up quickly, the valves had contracted and opened slowly. Instead of firing off like mad, the car just went "blump" and straight into the hut. It was a total disaster. I went over to Cubby and said, "I'm terribly sorry." "Don't worry, we'll come back tomorrow and do it again," he said.' Having tried to heat the valves up and insulate them, the crew found that Cubby had already paid for their drinks at the hotel bar when they got back that night.
The next day they regrouped. 'Cubby sat in the same seat, we fired the car and it flew like a dream,' Corbould recalled. "Was that better?" I said to him. He said, "Yeah, that's exactly what I knew would happen…"'
Bond Cars: The Definitive History, Standard and Collector's Editions by Jason Barlow are available to buy at 007Store