Q's London Home
Designing a house fit for a Quartermaster
How do you design the personal abode of a well-loved character, away from his work environment? That was the assignment for the production design team on No Time To Die who created Q's home.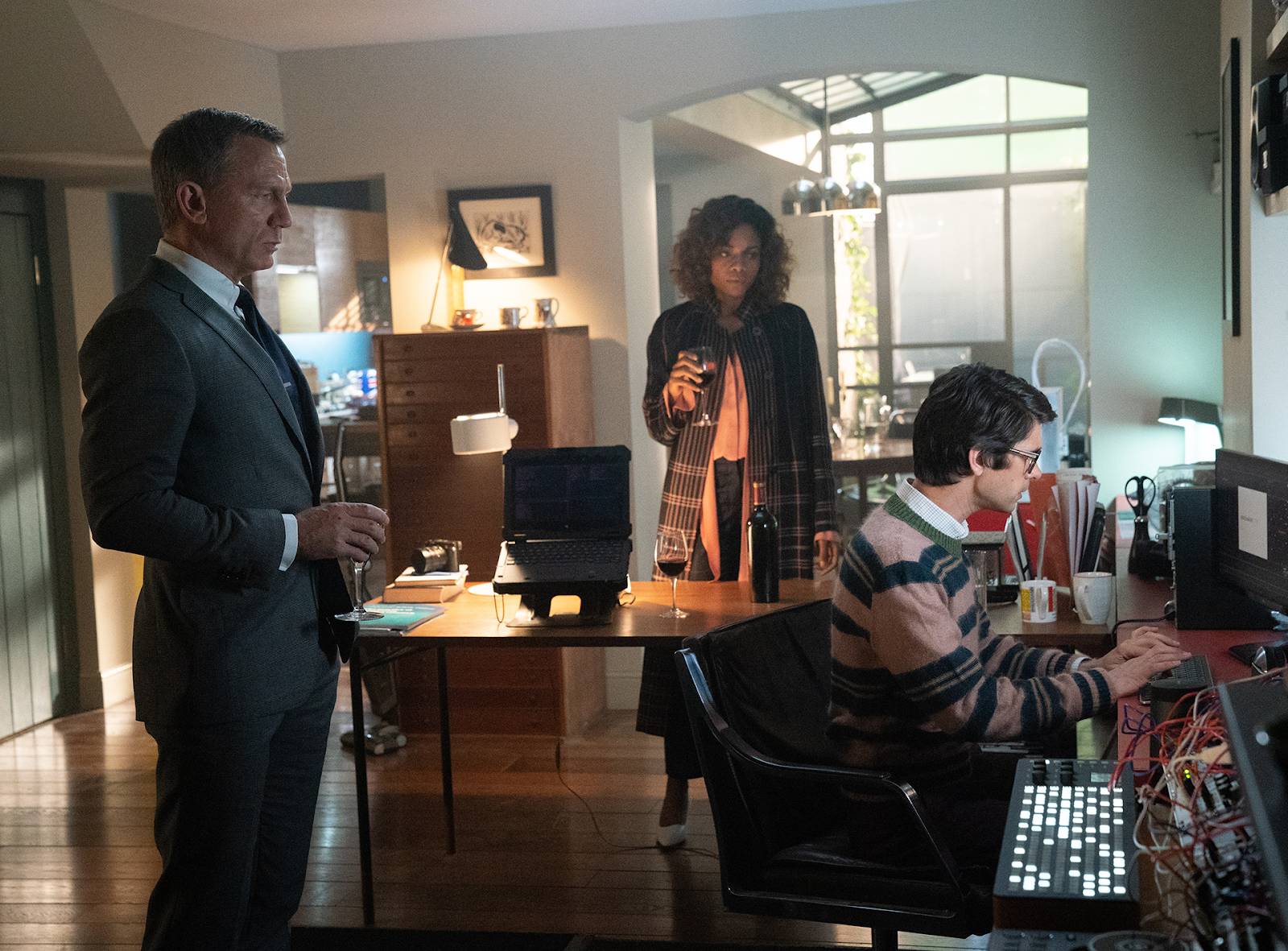 The plot
Introducing Q's house to the audience gave a glimpse into the personal life of the man behind the gadgets. Producer Michael G. Wilson explains, "After meeting M, Moneypenny asks Bond if they can go to dinner. He says, 'Fine', and they end up going to Q's house. We see Q's domestic situation for the first time, with his hairless cats, and he's preparing for a friend coming for dinner. It is great to see Moneypenny, Bond and Q back together. It's the usual banter and humour we've come to expect from these characters. Q reluctantly helps out Bond. He knows it's not something sanctioned by M and MI6, but he senses something is wrong. Q gets into the database that Bond gives him and begins to see issues that affect the plot. It takes us on to the next phase of the film."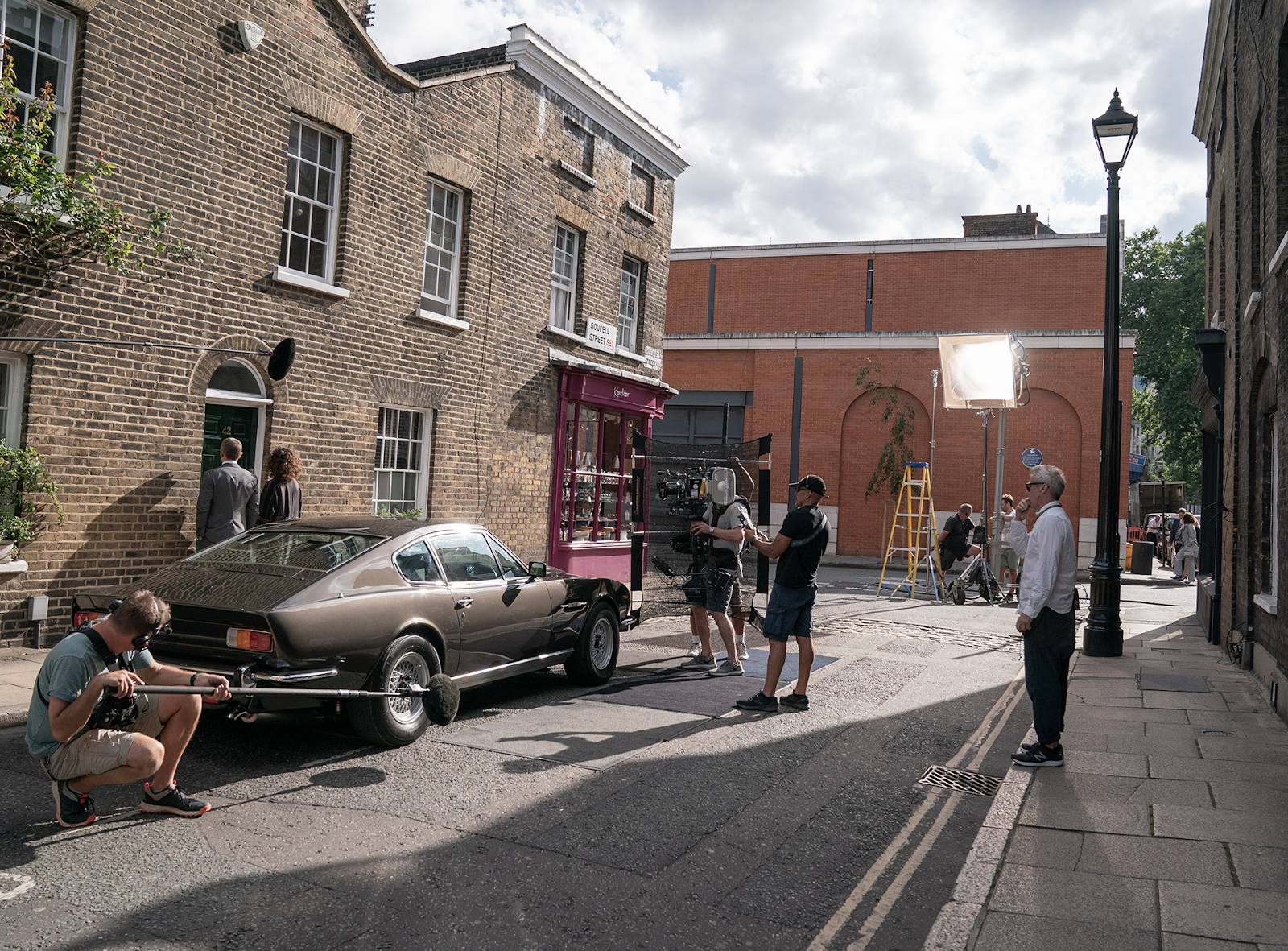 The London location
Art Director Sandra Phillips, who worked on No Time To Die and Quantum of Solace, gave Q a "lovely two up-two down," based on a Victorian terrace in Roupell Street, a conservation area near Waterloo train station. While the real Roupell Street exterior was used for the scene where Bond and Moneypenny turn up unannounced, interrupting his dinner preparations, the interior of Q's home was a set built on the Richard Attenborough Stage at Pinewood Studios, which featured an open-plan ground floor with interconnected living space, kitchen-diner and terraced garden.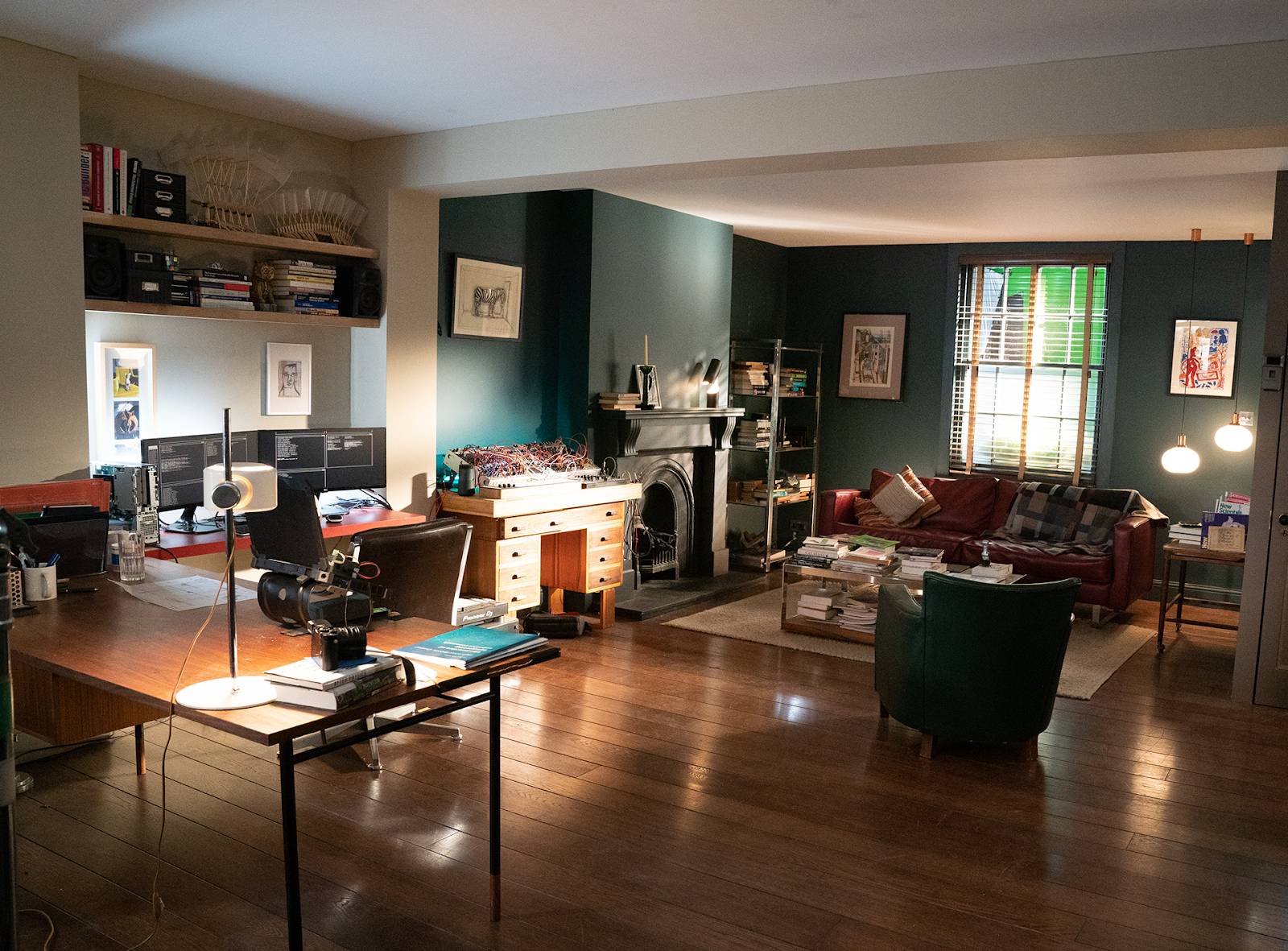 The interior design
"It was fun to create Q's London home," says Mark Tildesley, Production Designer on No Time To Die. "We've given him a house that's in central London, not far from Waterloo station, so that he can cycle to work. He has a small cottage – a Victorian, old traditional cottage – just off of Waterloo, which is cosy. A bit Q really, a bit like his jumpers and various pieces. It was designed to be slightly quirky."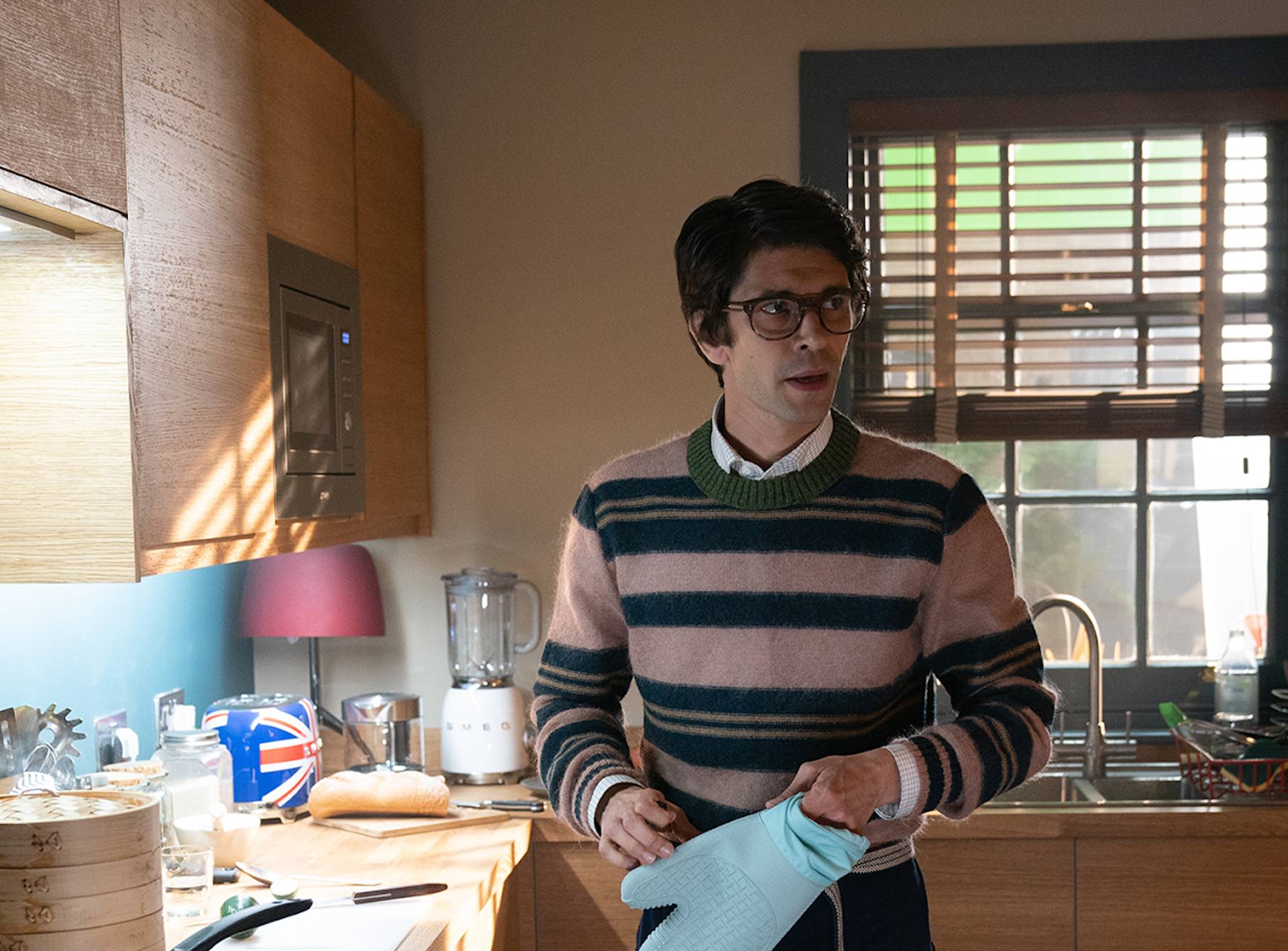 Revealing character through decor
"When we were thinking about him as a character, we were trying to make him very normal and domestic at home, not a crazy boffin," explains Mark Tildesley. "We feature him cooking and taking care of his cats. It was fun to have time to see his personal life." 
"He's not a cold scientist," adds set decorator Véronique Melery, who made her 007 debut with No Time To Die. "We decided he was a guy of great taste and warmth, perhaps warmer than the audience could imagine. Q's a young person living in the world like anyone else but having a great curiosity about science and gadgets. He's a kind person, loves music, is a great chef, and has a new potential relationship."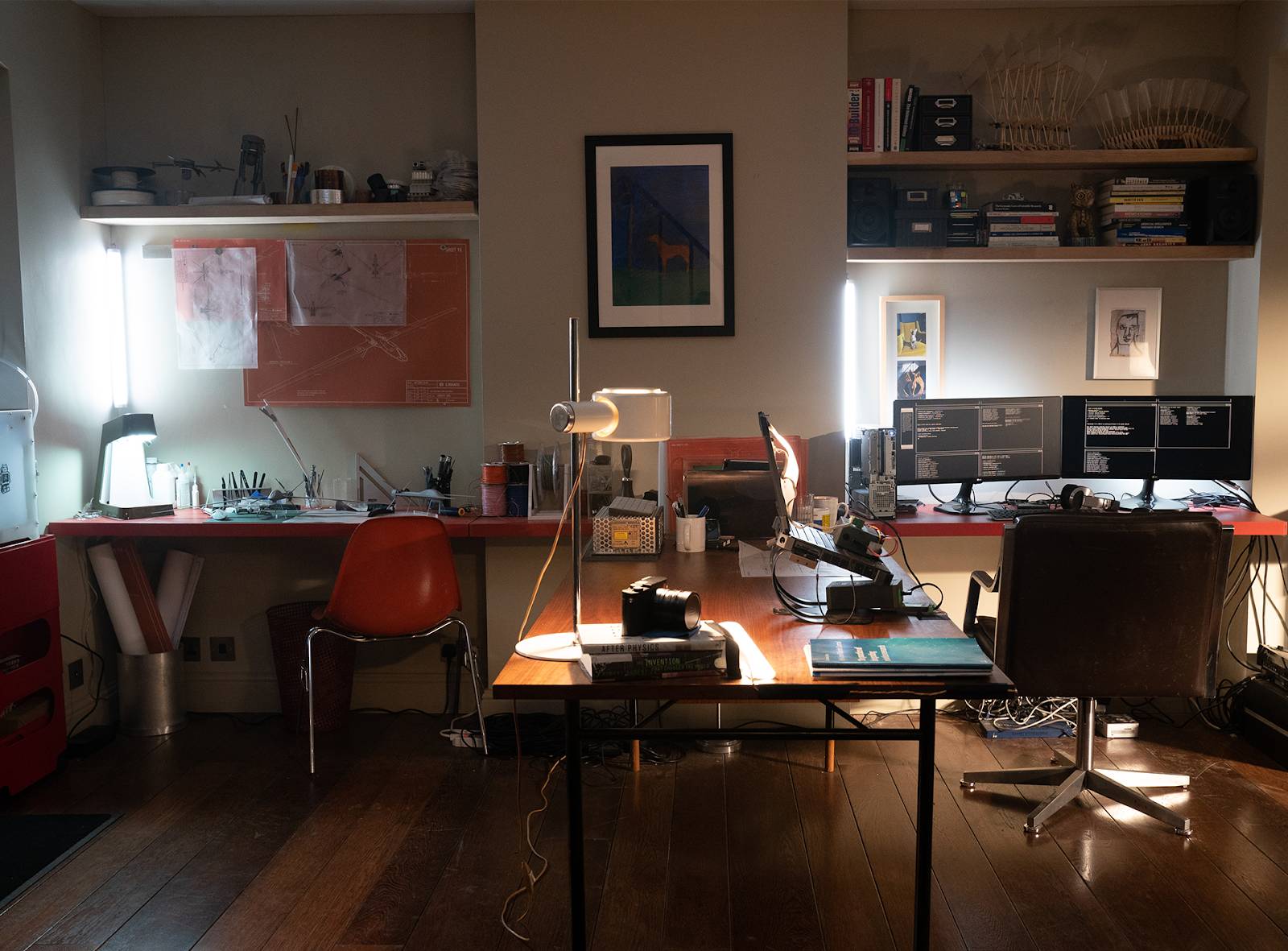 Q's home style
When it came to furnishings, it was important that every item reflected Q's personality. "He's very dapper, very smartly put together, so obviously cares about things," notes Sandra Phillips. "His home is well looked after, even if it's slightly chaotic. We had lots of Georgian influences, but tried to use a lot of dark blues and reds. It was a rich mixture of textures and colours, so it felt very lived-in. Lots of dark wood and low, moody lighting." 
Q's kitchen was purpose built from scratch. "It's not one you could get from Ikea," says Véronique Melery, who filled the culinary space with "interesting pots and things around the kitchen that I was buying in John Lewis or Peter Jones – the shops where you go to get good, quality stuff." His furniture was procured mostly from second-hand shops and the sofa from a property store. The room was also filled with coasters and placemats that declared Q's love for the royal family. "He is a royalist, a traditionalist," Véronique explains. "He likes the tacky image these funny little knick-knacks convey." And Q's book shelves were curated carefully too. ​​"We talked about books that were related to his work: science, discoveries, physics and mathematics. Plus books about music, history and biographies," Véronique says. 
Q the musician
Set decorator Véronique Melery envisaged Q as a composer of electronic music so looked to create a homemade keyboard. Help came from an unlikely source as Associate Producer Gregg Wilson, who, with Q like ingenuity, had built his own modular synthesiser. Veronique created a yellow three-dimensional structure hung on the wall to absorb and reverberate the sound. The work also played into Q's taste in art which Veronique calls "not entirely mainstream. We thought he would like artists who are more instinctive than cerebral." The idea of Q as a culture vulture came from his first meeting with Bond at the National Portrait Gallery in Skyfall.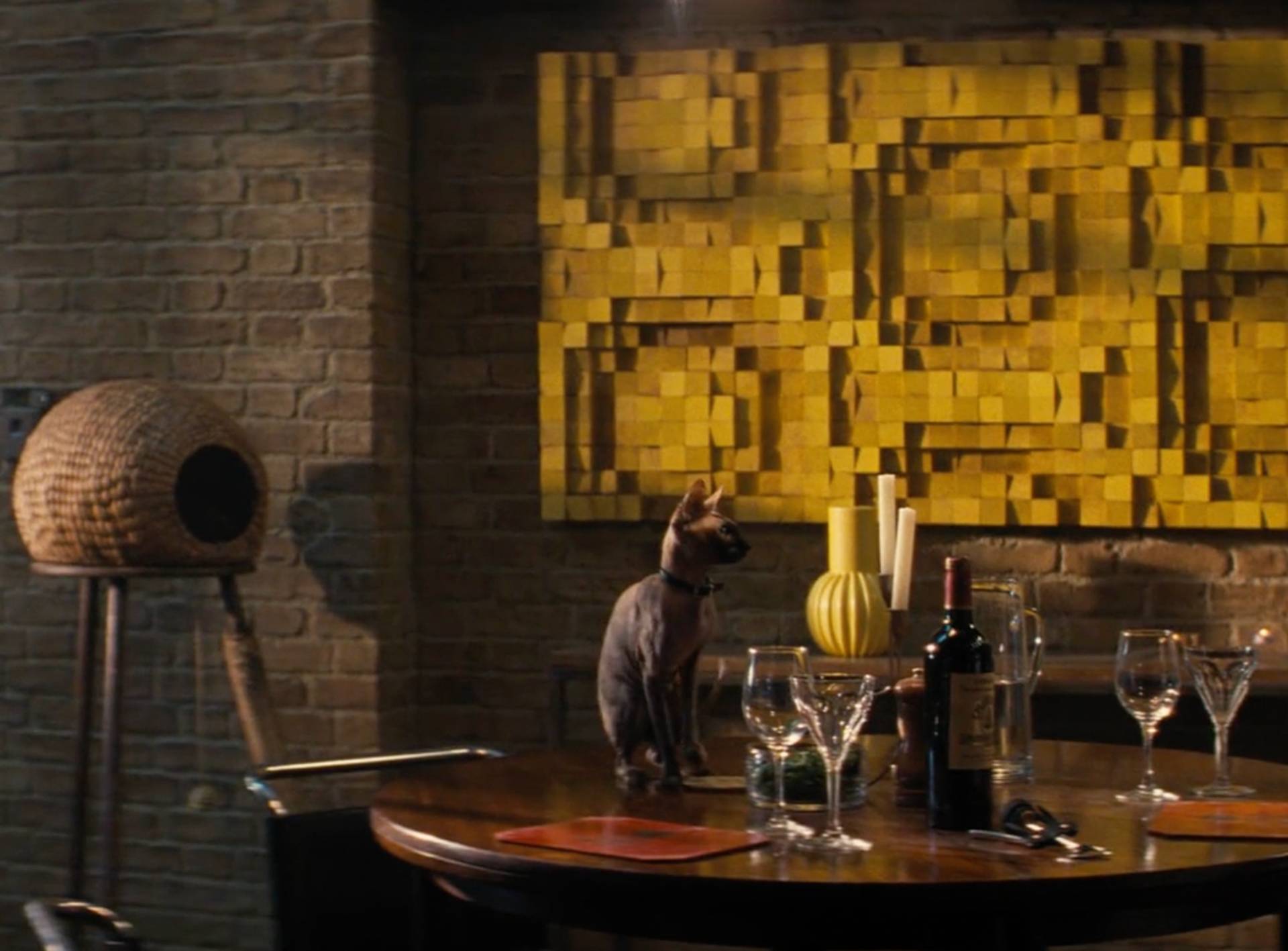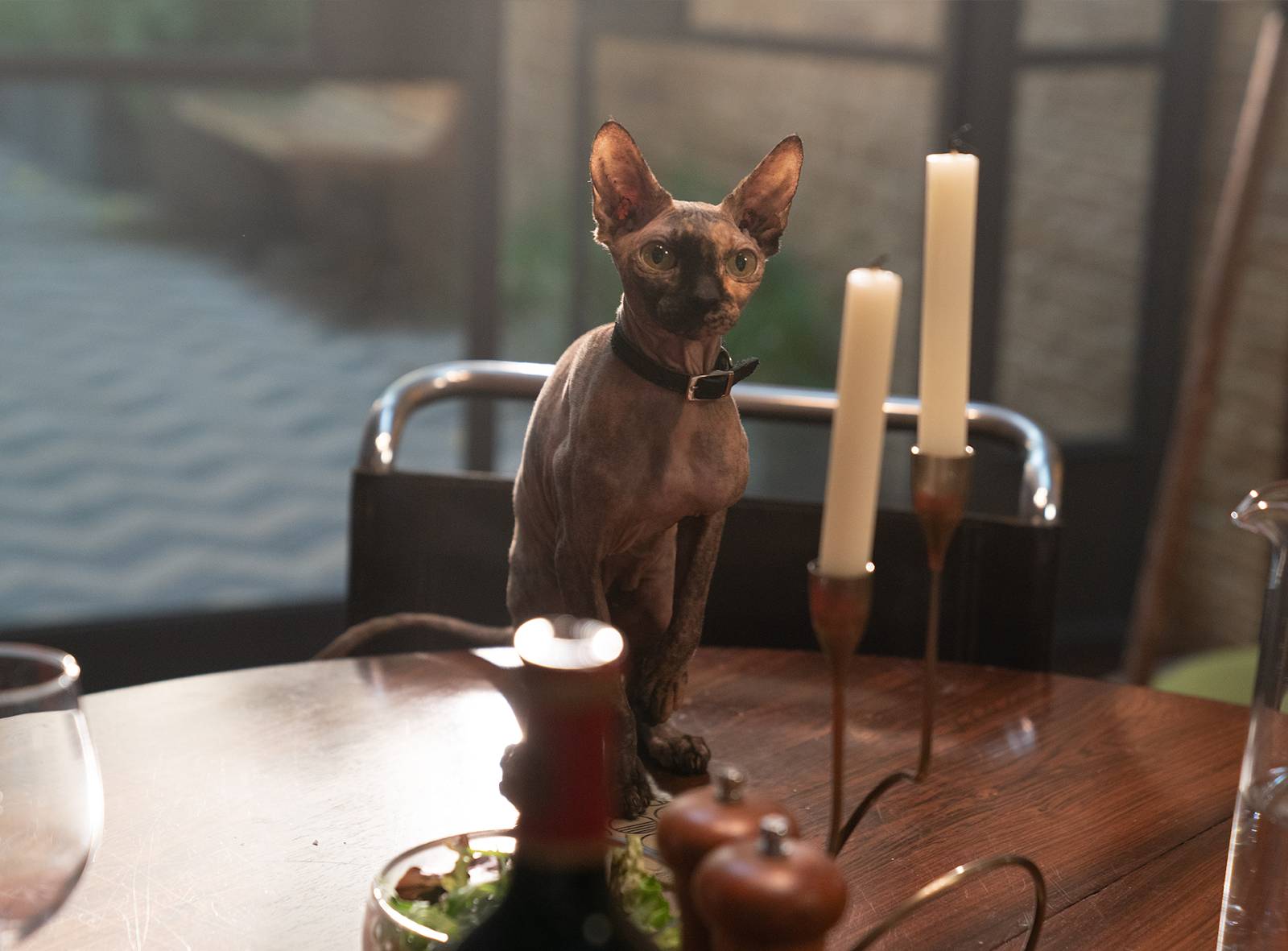 Q's pets
For Ben Whishaw, the at home scene was an opportunity to show a more rounded life of a Quartermaster. "He's got two cats that we learn about in Spectre, but these cats are hairless cats and very, very beautiful actually," Ben said. "They are highly intelligent, very charming and well behaved." 
Véronique Melery felt the Egyptian Sphinx cats perfectly represented their owner. "They are a bit like him – slightly different," she says. "Q really takes great care of them. He's built a little labyrinth on high so the cats can lie about and there are nests for them to sleep in. The cats were very well behaved on set and talkative – they liked to express themselves!" 
"I really loved seeing his home environment. Seeing what his habitat is like away from MI6 and how much there is still of him in it and some of the kind of quirky and peculiar things that are going on there," says Ben Whishaw. "It's still like a work environment really. I don't think he's someone who ever really stops working or thinking. I think it's been growing in several of the recent films, the kind of tension between having a private life and having a family life; having a relationship and also your commitment to your work."
Add some Quartermaster style to your home. Q's bone china mug showing the periodic table in full colour, made by McLaggan Smith, as seen on his desk in No Time To Die is available to buy here priced £14.95.