How To Train Like James Bond
With Daniel Craig's trainer Simon Waterson
47-year-old professional trainer Simon Waterson started working with the Bond franchise back in 1999 as Pierce Brosnan's trainer on The World Is Not Enough (1999) before helping Daniel Craig get into shape for the role of 007 in Casino Royale (2006). Since then he's worked with him on Quantum Of Solace (2008), Skyfall (2012), Spectre (2015) and most recently No Time To Die (2020). Waterson joined the Royal Naval Commandos when he was 16, serving as a member of the 845 Naval Air Squadron – an elite special forces unit – for seven years before taking on a very different Naval Commander…
When did you first meet Daniel Craig?
It was before Casino Royale started filming. I flew to Washington to meet Daniel who was working on a different film. I knocked on his trailer door and he answered holding a bacon sandwich and smoking a cigarette and he was like, 'Oh no' and I said 'Oh yes, the process is starting my friend'. We came up with a plan of what aesthetic look we wanted for him – his body shape and the way Bond moves – all the things that go along with the character. Daniel is very meticulous and he knew the way he wanted to portray Bond and how he wanted to evolve the character. He wasn't looking at it as one movie, he was already looking beyond that and how the character would evolve over a series of films.
How do you prepare Daniel for filming?
I normally get the script and spend some time breaking down the different elements especially if they are athletic – sprinting, going through walls – like you see in Casino Royale's opening sequence, just so I know the movement and speed they are going to require. Then I'll work on those elements with Daniel. He always says to me that his physique needs to represent the nature of his job, so that he looks capable and he keeps himself in top trim. Then he has the speed, the reaction, the strength and the agility. He shouldn't look like a body builder, he's a product of the nature of his job. His athleticism has developed so he is that efficient at the job.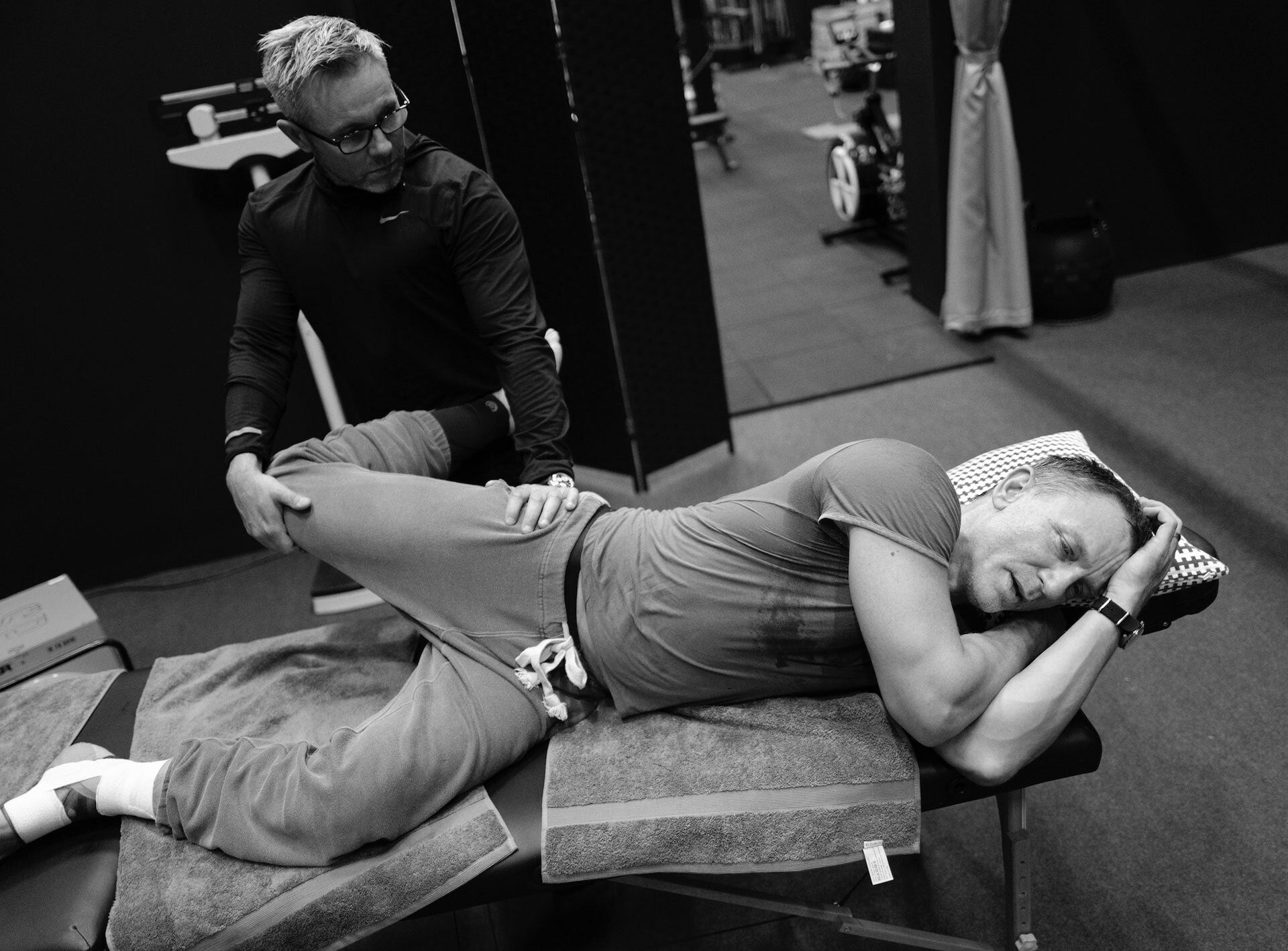 Is he up for training or do you need to give him a push?
The start is always the hardest. The first few months are tough but then when you start to see the fruits of your labour it becomes a lot easier and it becomes more about tweaking and maintaining and having specific movements to represent what's in the script. For example, if he needs to jump over a balustrade then we practice that stunt so that it gets easier and easier. The fitter you get the easier it gets. When we go into production we go into a maintenance phase. Like any athlete there's a pre-season which in the film world is pre-production and then you have the season which in our world is filming and then, like any athlete, there will be a post-season which is post-production.
What makes up his routine – presumably a combination of weights and cardio?
It's a combination of all those things. The key word is relevance. I don't want to waste time on doing things that aren't relevant. If there are huge sprint scenes in the film there's no point Daniel sitting on a bike. Everything is about relevance to the movie.
When filming No Time To Die Daniel injured his ankle, how did you deal with that?
You never want an injury to happen and it's a setback but it's manageable and you work around it. In the world of action movies there are always going to be a few niggles, you are working extremely hard and you don't get an afternoon off, it's six days a week, six in the morning till ten at night. It's inevitable that you are going to get some knocks, but it's how you react to that. If you catastrophise the situation then you're going to go into a bad place. Mentally you need to keep yourself in a good place. With injuries it's all about looking at the long term health, so you do the right exercises and the right rehabilitation to get it fixed properly.
How important is diet?
The nutrition side of things is the key. I like to have a good eye across that. I use a lot of anti-inflammatory protocols. The nutrition is tailored towards the script and schedule. For high octane, athletic days, where there's lots of stunts and running around then the calories and the macros (macronutrients) are different to a sedentary dialogue day. There's no crazy diets, nothing is eliminated. We're looking for maximum amount of energy, good hydration and a constant flow of eating throughout the day. During shooting Daniel has six meals a day.
What's a typical day on set like?
It depends on the day of course, no one day is like another. But he comes in early and if it's an action day we have half an hour of activation, we're preparing the body to work at a high level for the day. We will do a mixture of dynamic exercise with a stretch routine to make sure the body is warmed up. Then he will go back to the trailer and get ready for filming while I go off and make sure breakfast is ready. We'll use lots of things like turmeric root juice which is a natural anti-inflammatory along with probiotic shots. Then it's really being on-hand for his snacks and meals and then in the evening we'll do a bigger workout back in the gym and work on some conditioning. But saying that, we'll judge it on the day. If it looks like he just needs to eat and sleep then we'll do that rather than training.
How does working on set and on location differ?
Going on location is great from a fitness point of view. Working in Matera on No Time To Die was exhausting just because getting to the gym there were so many stairs to climb. If you go to a hot climate it's easier to go swimming or paddle boarding so you can diversify and make it a bit more interesting. Fitness doesn't have to be prescribed, it should feel like a hobby. You need to have escapism, it's not work, it's leisure time, so we just put some music on and enjoy it.
Intelligent Fitness by Simon Waterson is available to buy at 007Store.
Photography: Greg Williams