The Style Of Skyfall And Spectre
Costume Designer Jany Temime talks about her love of 007 and working with Daniel Craig
Jany, you're a James Bond fan first and foremost…
I love it, love it, love it! 
When were you first introduced to 007?
The film I fell in love with was Octopussy. It was the first one I saw in a cinema in Paris, on a big screen on the Champs-Élysées. I was full of aspiration afterwards, it was so glamorous. 
How did you become involved with the James Bond films?
Through Sam Mendes. He was looking for someone to work on the costumes for Skyfall. My agent told me that he was interested in seeing me, we had a meeting to discuss the work and that was it. I think Sam looked at my work on Harry Potter and liked it. 
What were your first steps when starting on a Bond film?
You have to respect what has been done before and at the same time innovate. It's very hard to take on a legacy and do something more modern. This was the challenge, the balance between innovation and being respectful of the tradition of 007.
How do you find that balance of adding your own style and respecting the tradition?
There were 50 years of history when I started. I had to look at what sort of man Bond could be now, how he could hold the values of a modern English gentleman and spy, and show this in how he looks. I was very much helped by Daniel Craig who had a very good idea of what he wanted to look like. I went to see him in New York with a bunch of clothes. We created the shape of his suit together before seeing Tom Ford.  I was really happy to be with Barbara Broccoli because it's quite intimidating, arriving in that temple of style. We told them Tom Ford is what we all wanted Daniel to wear as James Bond. They sent me their best tailor and some samples from Italy. The collaboration was brilliant. Tom Ford was also very happy that I wanted to have the tuxedo in dark blue instead of black.

The midnight blue dinner jacket – was that inspired by Sean Connery's era in the 60s? 
No, I didn't ever know that, I just thought blue was an interesting idea. I had a gentleman to create. I thought that there is a sense of tradition in Bond and I can bring what I think is new. But I discover with 60 years of history nothing is new. I chose midnight blue dinner jackets because it has an elegance and way of showing sophistication. 
Was getting the look of James Bond's suits your main challenge as Costume Designer?
We wanted to have an athletic, strong, sporty man. The fact that the suits are tight is not just an aesthetic reason, it is because I wanted to see the body to show what he is physically capable of. You can see that 007 has legs to run. It was good to show fans that yes, you can wear a suit that looks cool and feels young. He is somebody dressed to have a martini in a bar and to fight. He is ready for action and the suit shows that.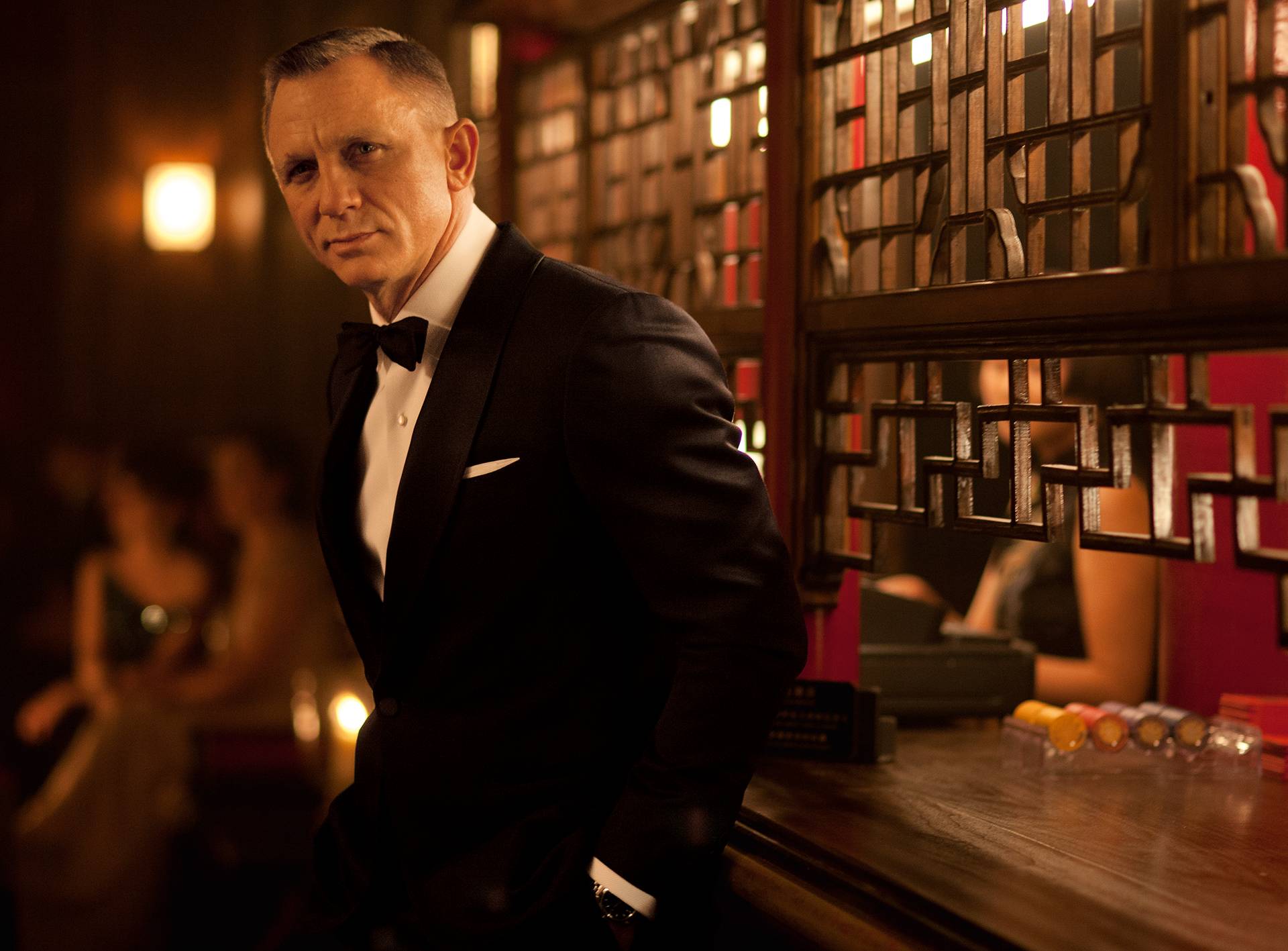 How much collaboration do you do with actors and the director? 
Everything we did was to fit the script and was looked at by Sam Mendes. We talked in the beginning and I mentioned ideas such as the style of (legendary French actor and filmmaker) Alain Delon, my inspiration through various designers and what characters could wear. Daniel had ideas for certain looks and things he was comfortable in but the physical suit, that was agreed between everyone but especially with Sam and Daniel.
In Skyfall, Q and Moneypenny are re-introduced. How important was it to modernise them?
Q's quirky look was very much from Sam Mendes. He wanted Q to be someone who is incredibly intelligent.  So we thought of all those kids working in tech and social media. They were spending a hell of a lot of money on clothes and were fashionable in a very nerdy way. That's what we wanted to show for Q. I sent an image pitching the idea to Sam and he said, "You've nailed it, you've got it, exactly how I wanted".
Q had a statement mustard cardigan. How did that come about?
It's from the menswear designer, Dries van Noten. Everything Q wears on screen is extremely expensive on purpose. It is sort of how a tech or computer millionaire will dress. I imagined Q going to a very expensive shop but to buy a cardigan because that's what he likes to wear and at school he had one.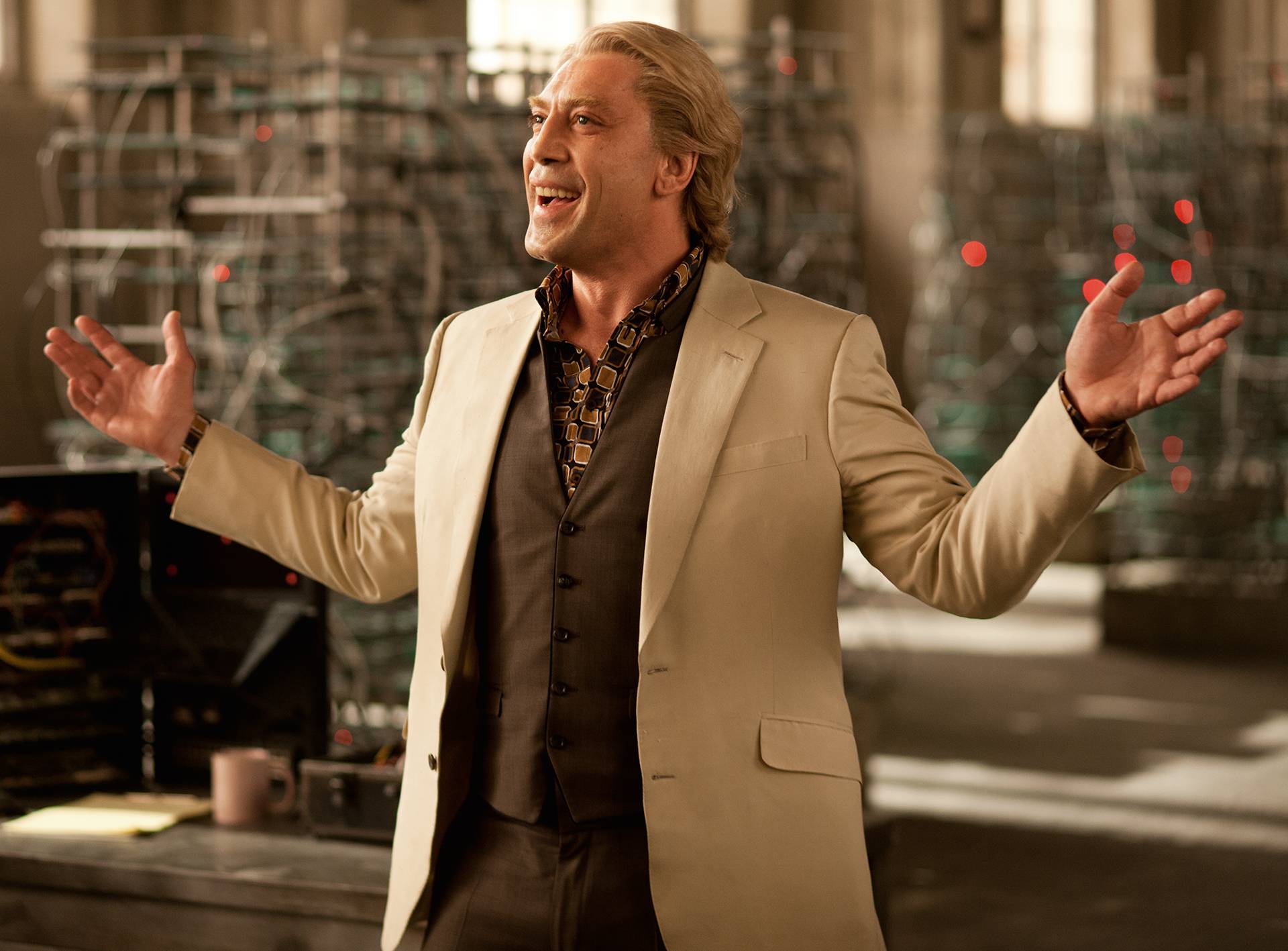 Who's costume did you spend the most time on?
After 007, the one character who was very difficult was Javier Bardem's Silva. Javier came with one goal in mind and said, "I want to be as beautiful as Daniel". Some might think that is vanity but Javier assured me that in the scene where they are both together, he wanted to be attractive even though underneath, his looks have been completely destroyed. Javier said to me, "I want to be a man with a certain level of attraction because if not, the scene where Bond is attracted to me will make no sense". That was a very strong point. So we had to find a style but it took us a long time. For example, the policeman's suit, people may think that was easy but it was a tailored suit just for Silva. We were shooting on the underground and we had real policemen who were looking at Javier in his uniform saying, "Oh my god, check it out. That jacket is so well cut. Is that the new uniform?" and I would say, "No, no no. The jacket was made by hand to look like a policeman's uniform".
Are there any other costumes that you enjoyed on Skyfall?
The black dress with the nude back worn by Bérénice Lim Marlohe as Sévérine. That was an idea from Sam who said, "I am going to start this shot with the back of the dress". So I started looking into transparent material for the back of the dress. We had 10 of those dresses. It was so tight and difficult to wear and was in two pieces, so we had to sew Bérénice into it. You don't see any of this on screen of course but the practicalities of the dress meant not going to the loo for many hours. So you put on the dress in the morning, get out of it at lunchtime and back into it for the afternoon.  I think Bérénice was quite happy to get rid of it at the end of the day.
The glamorous dresses are obviously also a big part of Bond history…
It is not just beautiful clothing, it's a femme fatale dress. When I told Sam that Miss Moneypenny would be wearing gold in that scene he was worried the character would look like an Oscar statue. I said, "No, it won't be that kind of gold, it will be more like anise". We worked on it to find the final colour to make the dress stand out in the scene. It was wonderful working with Sam and I don't think that I would have done such a good job without his guidance.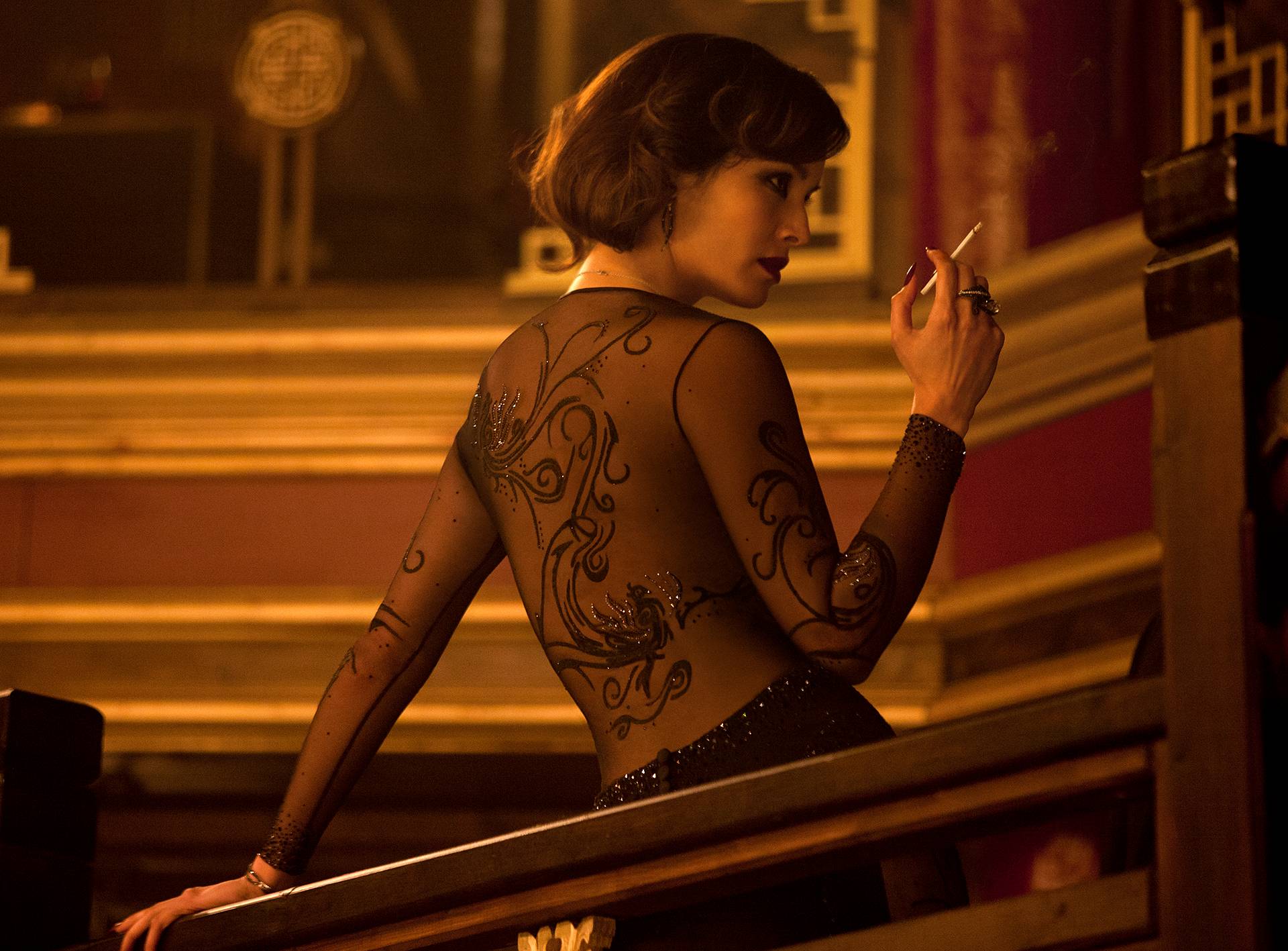 How important is it to work with other teams such as hair and make-up teams to keep the cast looking perfect?
Very important. You only get extremely beautiful results with tight collaboration between departments.  Nothing happens 'par hasard'. Make-up designer Naomi Donne is great at sharing ideas and Michael Wilson and Barbara Broccoli are excellent for encouraging this. They  really put people together and connect with the heads of department so people exchange ideas. This is reflected in the final film on screen.
In Spectre, the Day of the Dead opening sequence is such a big statement. How did you put together a vibrant sequence with all of the costumes?
It looks so good because we had plenty of time. When I started on Spectre, the script was not ready and that opening was the only part  that I could start on besides Daniel's costume which was going to be with Tom Ford. For The Day of the Dead, we spent so many months on it and I had a workshop in Mexico with incredible people. It was just designing, designing, designing. We started working out shapes, patterns and arranging things so they could be mixed around to give us a range of outfits. Then the 10 shapes could be multiplicated by changing the colour, shape and patterns on the outfit. Quite cleverly, it gives you lots of designs and looks. That is why the opening scene looks so good, because we had time to prepare.

What a huge project to design an entire parade on this scale…
So many people but also key characters are involved. I had two choices for Daniel to wear based on the fact Bond enters the room, removes clothes, goes out of the window and straight on the roof in one camera movement. I had to get something that he could take off quickly. So I thought, "Give him a mask, poncho or coat and then a suit underneath". Daniel chose the coat which looked perfect and the top hat was a nice addition. 
How did you get through so many people so quickly for that opening sequence?
A great team effort. My costume supervisor thought it was really a kick to have 4,000 people dressed up in the morning and he studied how they could be dressed, ready and available in four hours. It was fantastic but it was only because the system was very good.
I saw dresses made of paper, with paper napkins and paper plates in the Mexican Day of the Dead festival. Nothing is impossible in Mexico because they have this fantastic attitude of, "Oh you want it, that's no problem. We can make an event with all those people". They helped me tremendously to make dresses out of those paper flowers.  And we had whirling dancers in the street scenes and I thought it would be cool to make them look different again so we put them on wheels. The choreographer was up for the challenge and had seen a ballet in New York where they appeared on wheels. So we asked for those mechanisms to be made and it was met with a simple "No problem" by the crews in Mexico. 
In Spectre you filmed in the heat and the snow. How difficult is it to blend what the script requires with the character costumes?
When we got to Austria I was thinking it would be terrible because I cannot keep the actors warm and make them look stylish. I can dress Daniel Craig in ski clothes but I cannot dress Léa Seydoux in ski clothes because she is meant to be at work and then kidnapped. You cannot wait for her to get a coat on! I asked a colleague of mine, costume designer Jacqueline West, how she had kept Leonardo DiCaprio warm on the set of The Revenant. They were filming outdoors in the snow around the same time we were. She said all of the garments were kept warm on battery powered heaters on wire through the garments. So we immediately bought ourselves some and built them into the undergarments. They keep the actors warm for three hours and then you change the batteries. So Léa was warm because she had those clothes with heating devices. I was so grateful to Jacqueline West as she gave me that tip. 
What inspired Daniel's look in those snow scenes?
I found that style by looking at the 1950s and 1960s. In France we have a special army called the Chasseurs Alpins, they are expert mountain skiers. I found a trouser in their uniform from the '60s and showed it to Daniel. He liked the idea so I went to Tom Ford and then they remade it for me in their unique style. We added the sweater with a sleeve, the sunglasses and the gilet to round out the look but it had to be practical for the actors as well as very stylish.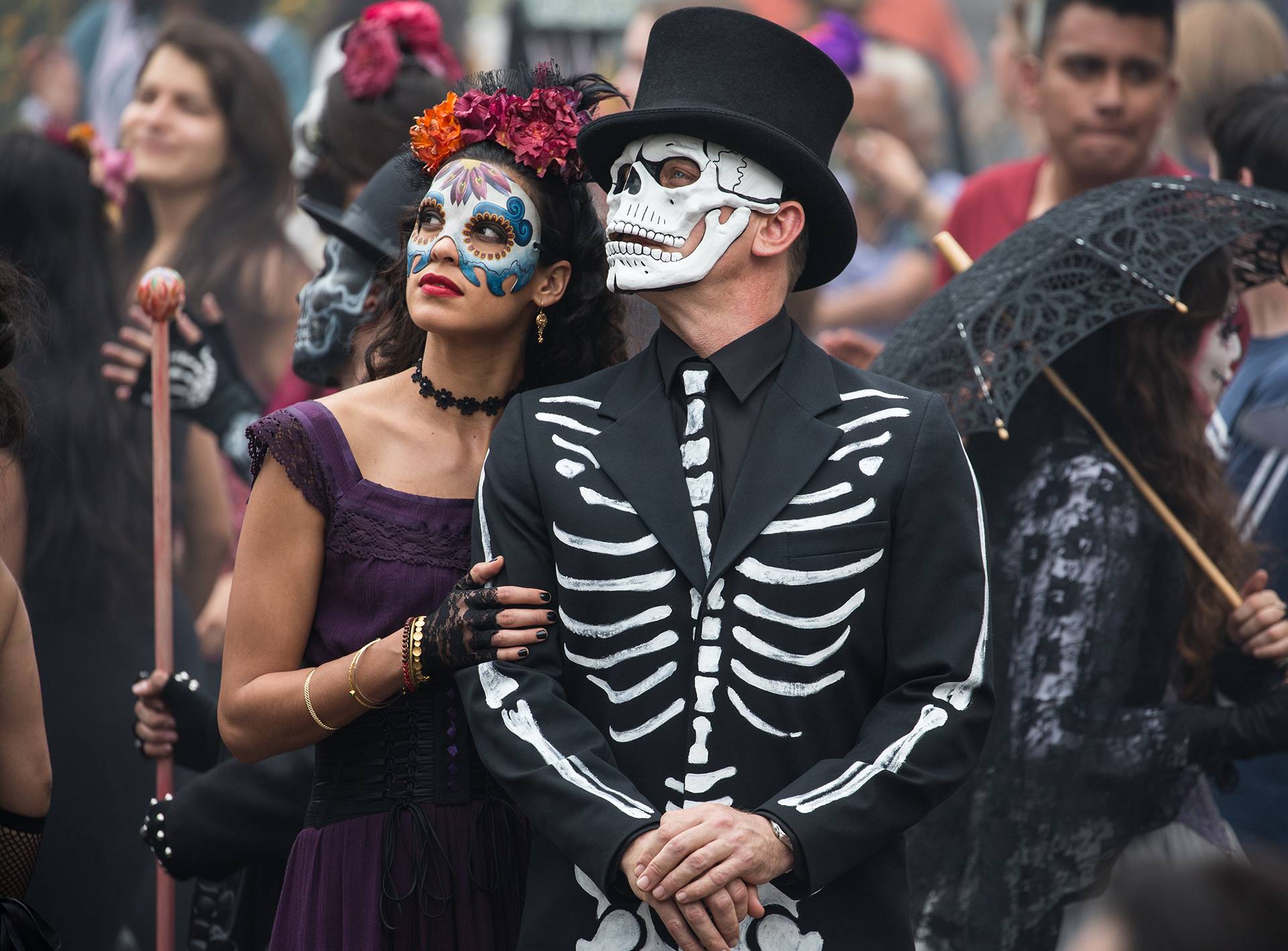 Do you have ideas ready if you were to work on another Bond film?
Yes, it would be brilliantly challenging. I would love to create a new Bond and find out what's true for a new actor.  Seeing how you mix a gentleman who is also a spy but is also different from the Bond we know and love. 
What advice do you have for men to dress more like James Bond? 
Start to get fit. Even if you don't look like Bond, people will notice the improvements. Train the body to look good and a great suit will sit better on you. Then get a tailored suit made for you. If you can afford it, get a great, expensive suit made for you. Great tailoring can make a difference and can correct a lot of things.
How important is it to get the right shoes and watch to match a tailored suit?
This is taken care of for Bond by OMEGA and people like Crockett and Jones. Their work brought the look of 007 together for Daniel Craig. I believe in men's tailoring. I find the most beautiful bespoke suit is elegant, sophisticated and you keep it for years. You don't need to have a lot. Three suits and a shirt made for you. Then you add the handmade shoes. It is better to start little and build your wardrobe with a few items that are of excellent quality.