Official 2023 Christmas Gift Guide Part 2
Prep for the festivities by finding inspiration for everyone on your list
We bring you more from the 2023 James Bond Christmas Guide, including a festive round-up of the best present ideas for kids, gifts to personalise, inspiration for the family and tree decorations.
The James Bond Playmobil set will give hours of ejector-action fun while Mathile's hand knitted dou dou bunny and Steiff's Bond teddy are must haves. If you want to keep them busy over the Christmas break, try a build-your-own model kit. They can piece together classic Bond vehicles, including the silver birch DB5, Moonraker shuttle and GoldenEye Tiger Eurocopter. Strategy lovers will enjoy the dastardly SPECTRE board game. How about a mini 007 t-shirt? Choose from a range of sizes, colours and designs for kids and teens, including Scaramanga's flying car and 'The next 007'. James Bond chocolate bars from Charbonnel et Walker are alway well received, while a Secret Service iD card will give any junior agent authentic credentials.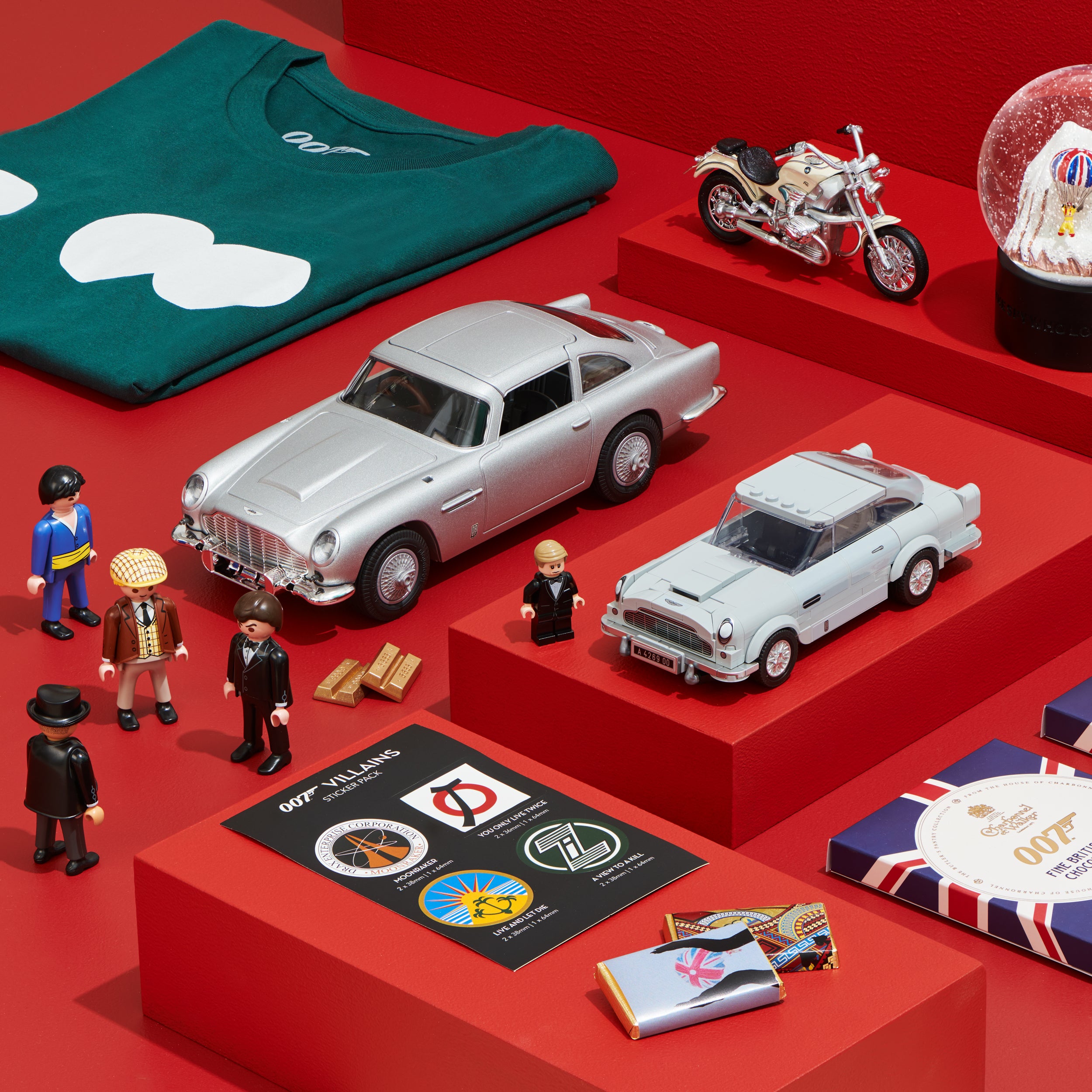 Make it unique with a 007-inspired present bearing their name or initials. For 2023, new 007 leather luggage tags may be personalised in a range of colours, including red and sky blue. Want something a little darker? Choose a personalised SPECTRE accessory. Make your mark on Christmas Day with a SPECTRE bag tag, embossed card holder or A5 notebook. Or elevate their next journey with a travel-themed 007 gift. Get them ready for action with a red leather travel wallet featuring double zips for money, cards and passport, or a personalised leather and suede accessories case to keep their Omega, cufflinks and jewellery safe at home and away. Games lovers will enjoy the personalised leather 007 poker set, while martini makers will appreciate a monogrammed 007 cocktail shaker to add to their bar.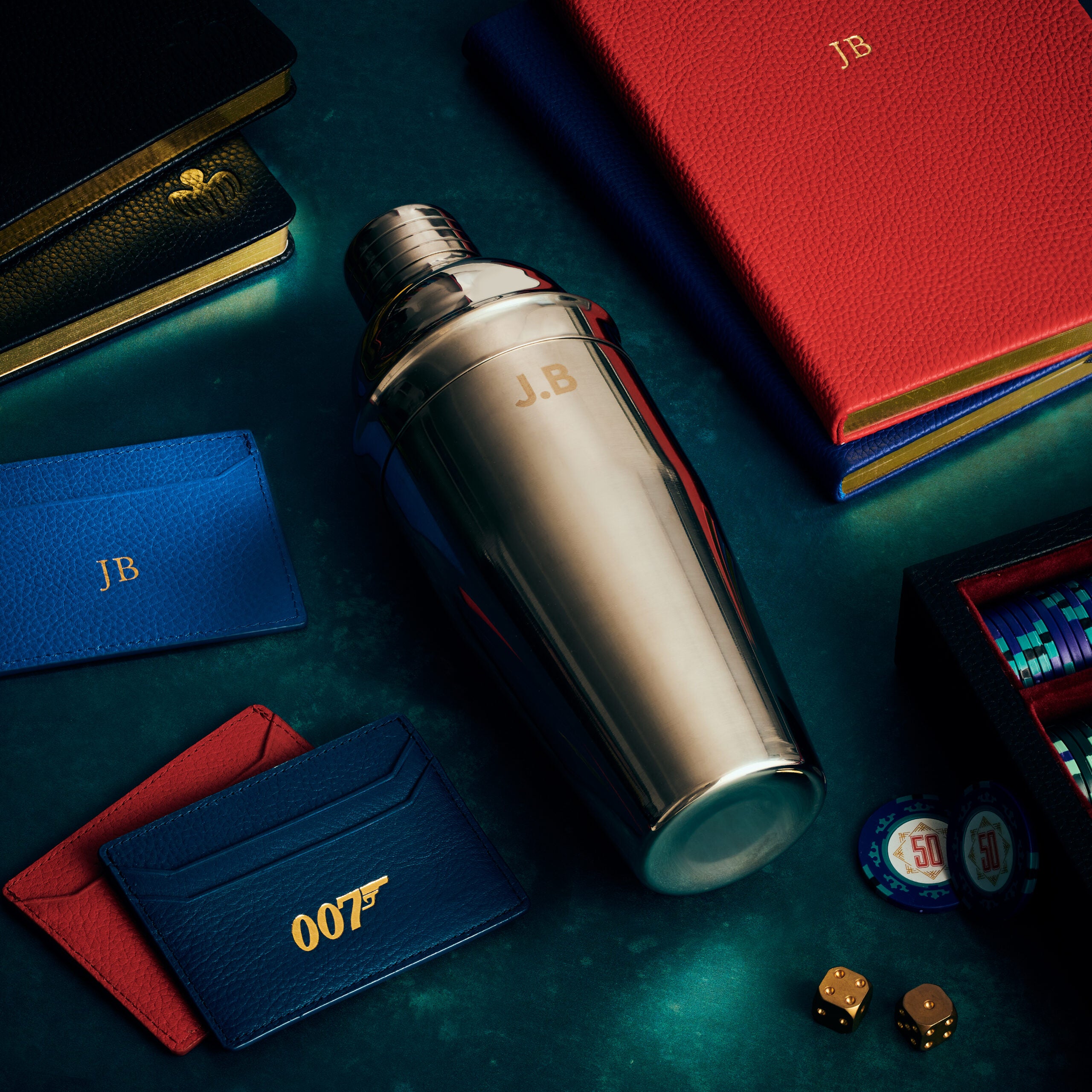 Get puzzling in unique style with Bond-shaped pieces in the new wooden jigsaws range. Take to the skies with the 250 piece set, featuring The Man With The Golden Gun's iconic AMC Hornet corkscrew jump in Thailand. Bring the family together for games night with 007 Cluedo, Bond Bingo or Monopoly, or test each other on Bond gadgets with Q Branch Top Trumps. A 2024 wall calendar will help map out the year in style, or treat them to a perfect movie night with some 007 martini popcorn and a boxset. The holiday break is the perfect excuse to restock the library with essential Bond books. There's always more to discover with Taschen's The James Bond Archives Book, which shares the detail behind the detail, and covers the 61-year history of the film series – now in four languages.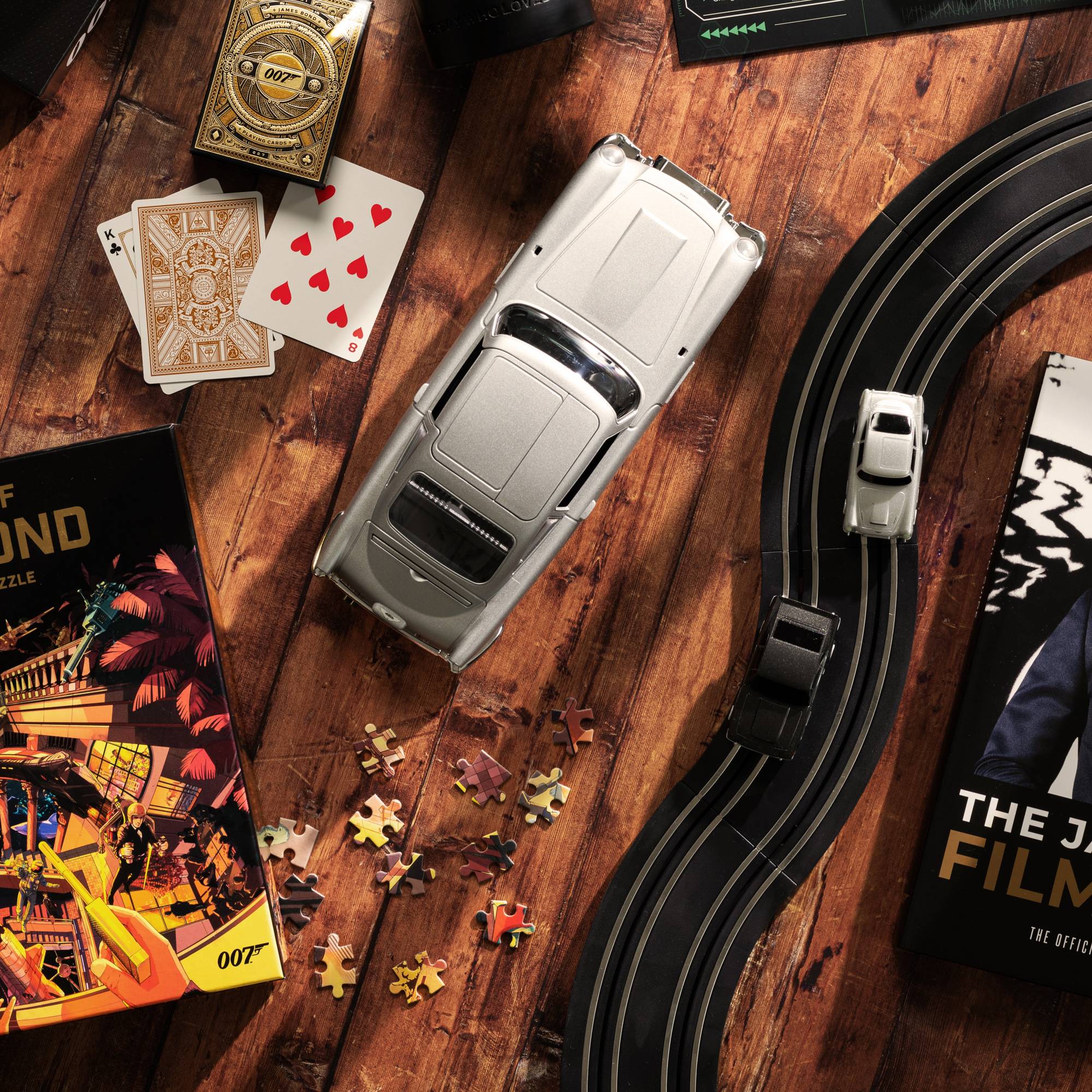 Handmade, embroidered and beaded, the James Bond tree decorations bring iconic elements of the Bond universe to your festivities. The union jack parachute and yellow ski suit pay homage to The Spy Who Loved Me's opening stunt. The Bond crest calls up the history of the family, while 007's black silk bow tie and sparkling martini glass draw on high octane evenings. Dial up the stakes with Bond's winning cards of Texas Hold'em poker and the 100,000 euro casino chip, both from the Casino Royale in Montenegro, or step into the shadows with a shimmering black SPECTRE symbol. Three new designs are launching this Christmas so watch out for James Bond in black tie, Blofeld's white cat and the On Her Majesty's Secret Service skiing James, coming soon.
See the complete range at 007Store.com.